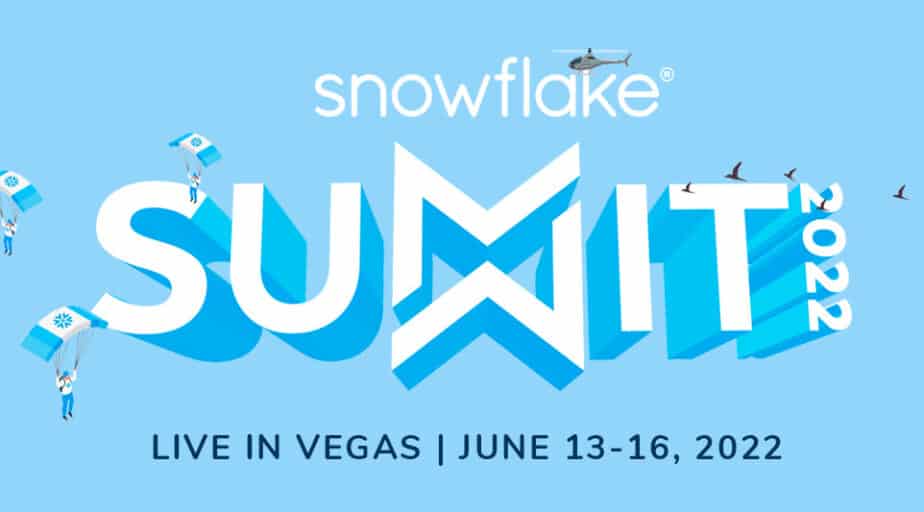 Learn How to Solve your Data Challenges at the Snowflake Summit 2022
John Morrell
May 11, 2022
At the Snowflake Summit 2022, you can find new innovations in data engineering that can increase data team productivity and deliver greater data self-service for analytics teams.  The combination of greater efficiency and self-sufficiency can help overcome resource limitation challenges.
With our current economic environment, many organizations are facing budget crunches and even cuts.  Data and analytics teams are no exception.  These teams are being asked to do more with less, just like the rest of the organization is, and try to rein in costs, including cloud costs.
Most data and analytics teams were short-staffed before and continue to have limited data resources.  It has always been a struggle to hire data professionals in this competitive market and the shortage of data engineers.  Yet, data teams still need to deliver more data to business teams that need this data more than ever due to the current economy.
The upcoming Snowflake Summit 2022 presents an opportunity for data professionals to find approaches and techniques to do more with the resources they have and help keep their cloud costs from spiraling.  All in an effort to continue delivering more data to the business in a more timely manner and drive analytics adoption.
To quote the Snowflake Summit website:
"You will have live access to the people and organizations that comprise the Data Cloud. You will also have the opportunity to collaborate around data with the intent of developing new data products and data apps that will help drive your business forward—inside and out. Then, catch your breath and learn all about the new innovations coming to the Data Cloud, so you can have the power, speed, and flexibility to execute your most critical data workloads."
There will be presentations and an opportunity to network with data professionals from companies such as Snowflake, Under Armour, GEICO, Hershey's, Caesars Entertainment, ServiceNow, Ubisoft, Morgan Stanley, Fidelity Investments, Pfizer, and Capital One.
For data engineers, it is an opportunity to learn about new innovations for data engineering and find techniques to optimize, simplify, and improve your data pipelines.  The Summit also presents an opportunity to hear from and collaborate with data engineering colleagues from other companies.
Overcoming Resource Limitations
Resource limitations are the biggest issue facing almost every data team.  Budget constraints will further exasperate this problem.  Add to this increased demand from business teams for more data and the need for faster delivery and limited resources becomes an even bigger challenge.
One new innovation you will see at the Snowflake Summit is data modeling and transformation platforms that unify SQL and no-code tools, have built-in data catalogs, offer trusted deployment methods, and facilitate collaboration between data and analytics team members.  The best of these tools will be Snowflake-native.
These new data modeling and transformations platforms help overcome resource limitations by:
Making data engineering teams more efficient and productive via faster data pipeline creation, component reuse, and faster change management,

Adding non-coders to the team that can model and transform data, therefore expanding the available data processional resources, and

Allowing data and analytics teams to collaborate, making processes more efficient, and eliminating communication bottlenecks that can snag projects.
Keeping Cloud Costs in Control
It is natural for cloud costs to rise over time, especially with cloud data warehouses such as Snowflake.  Increased costs are a function of rolling out more analytics use cases and data to the business as adoption grows.  But with budget constraints, some teams may be asked to keep costs level or at least keep them under control.
At Snowflake Summit, data engineers can discover ways to optimize, simplify, and improve their data pipelines to help keep costs in line.  Data professionals can also find opportunities to simplify their data stack around Snowflake to further help control costs.
Three techniques to keep cloud costs low that data teams can explore at Snowflake Summit are:
Replacing legacy data transformation tools with modern, cloud-native ones that are more efficient, help streamline processes, and generate more efficient data pipelines that deliver data faster,

Using Snowflake-native data transformation tools that optimize for Snowflake's compute and storage for blazing faster performance and efficient use of resources, and

Using data transformation tools that maintain all data models and datasets inside of Snowflake, thereby eliminating costly extra data siloes and the management overhead from maintaining these.
A Datameer customer, Reliant Funding, was able to reap all three of these cost containment benefits and explained how in a previous webinar.
Deliver More Timely Data to the Business
In our current economic environment, business teams need to turn on a dime and adjust their strategies, campaigns, and actions quickly based on changing market conditions.  Quickly adjusting strategies and campaigns helps reduce costs by eliminating wasteful and unsuccessful ones.
Business agility requires timely delivery of fresh data to make decisions and determine the best actions.  This requires an agile data transformation platform that can execute optimized data pipelines with the following capabilities:
The ability to generate data models and pipelines that are optimized for Snowflake for highly efficient operation,

Snowflake-native use of compute and storage for blazing-fast performance so data is processed quickly on-demand, and

Job scheduling and execution tools that allow jobs to be performed as needed in a timely fashion.
Join Us
Datameer is the premier data modeling and transformation platform natively built for Snowflake.  With Datameer, hybrid teams of SQL developers and non-coders can explore, transform, and publish new datasets to the  Snowflake Data Cloud.  The SaaS platform allows teams to model and collaborate around their data directly in Snowflake, keeping data secure, eliminating extra data silos, and leveraging Snowflake's efficient and scalable compute and storage.
Want to see and discuss how Datameer enable any user across an organization to transform data and create the dataset specific to their analytic needs?  Datameer is a sponsor for the Snowflake Summit 2022 and our team will be there.  Join us.  You can meet our team at booth #1928.