How To Solve The Data Engineering Talent Shortage
John Morrell
January 28, 2022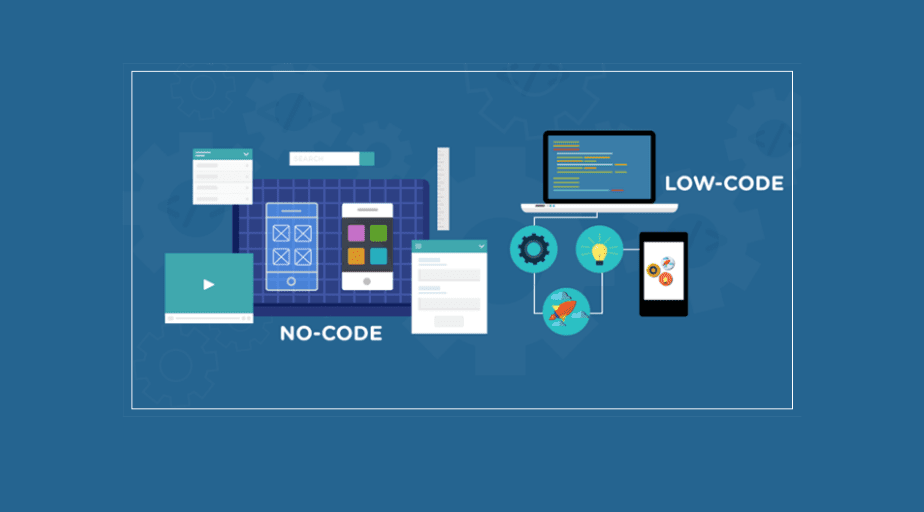 The demand for data engineers has consistently been more significant than the supply ever since the job title was formalized in the mid-2010s.  According to recruiting firm Gensigma,
"There are approximately 500,000 upcoming job positions for software engineers at any given time, and experts predict that it will rise by a million this year."
With data volumes continuing to skyrocket and demand for new analytics by the business steadily rising, the data engineering talent shortage is putting great strain on organizations.
Add to the talent shortage the fact that data engineering costs continue to rise significantly year over year.  When talent is found, salaries are at a premium, increasing the people cost.  In addition, many data engineering tasks continue to be manual, requiring coding, which makes the data engineering process slow and suboptimal.
Data engineering may be nearing a crisis level.
No-/low-code to the Rescue
The only way the talent shortage can be fixed is through new, trained data engineers getting onto the market.  But this has to happen through our university system.
Organizations can address their current data engineering needs and keep costs in line by streamlining their data engineering processes.  A big part of making data engineering processes more efficient is using modern no-/low-code data modeling and transformation tools.
Datameer recently surveyed 870 data and analytics professionals to get their thoughts on a variety of trends and practices within their organizations.  The demographics of the respondents were very diverse across different roles (data engineers, data analysts, business analysts, data scientists, and management) and various team sizes.
In the survey, users were also asked about their interest in no-/low-code tools for data engineering.  Nearly 79% of respondents showed interest in No-code tools for data engineering, with over 50% desiring a tool that combined SQL and No-code.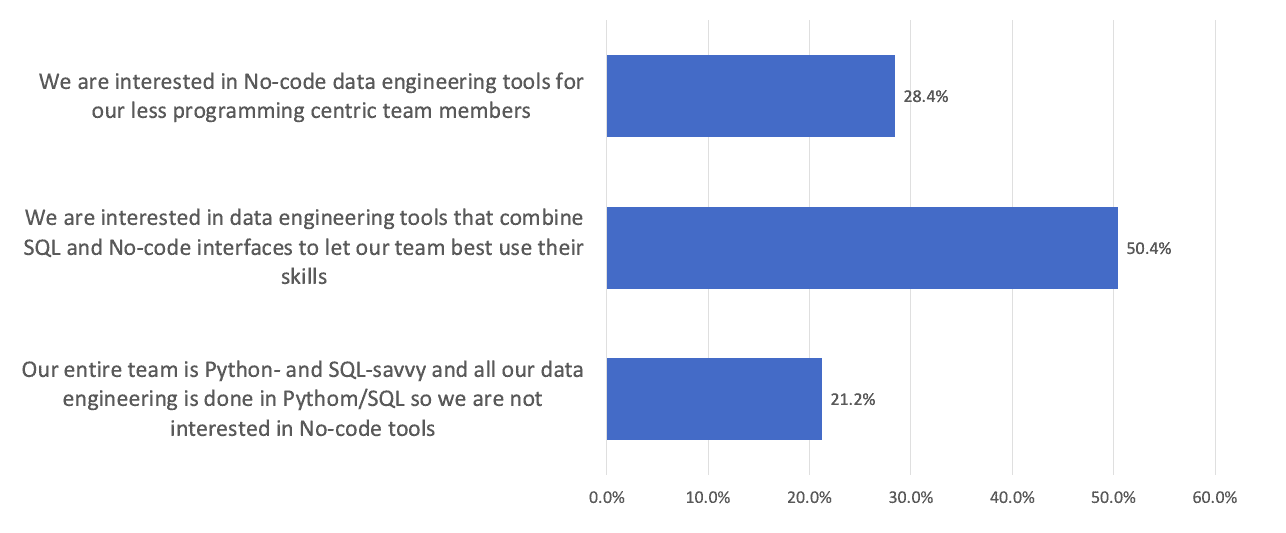 The Impact of No-/low-code Tools
No-/low-code tools such as Datameer let non-programmers on the analytics teams pitch in on the data modeling and transformation process.  This creates a bigger and broader team to work on the data modeling and transformation during analytics projects.  At the same time, no-/low-code tools also make data engineers more productive.
No-/Low-code tools reduce the burden on the already overtaxed data engineering staff.    The collaboration between the data and analytics teams will also reduce data modeling and transformation errors, share more knowledge about the data, and in general, allow analytics projects to be run faster.  This will keep data engineering costs down and make data and analytics teams more responsive to the business.
Datameer
Datameer's SaaS data transformation platform focuses on the T – transformation – in your ELT or ETLT stack.  Datameer is the industry's first collaborative, multi-persona data transformation platform integrated into Snowflake.  The multi-persona UI, with no-code, low-code, and code (SQL) tools, brings together your entire team – data engineers, analytics engineers, analysts, and data scientists – on a single platform to collaboratively transform and model data.  Catalog-like data documentation and knowledge sharing facilitate trust in the data and crowd-sourced data governance.  Direct integration into Snowflake keeps data secure and lowers costs by leveraging Snowflake's scalable compute and storage.
Wrap-Up
The data engineering talent shortage is placing a heavy toll on organizations.  With data volumes expected to double in the next two years, data engineering costs have the potential to rise in a similar fashion.  This is why no-/low-code data modeling and transformation tools are critical to helping streamline data engineering processes and keep costs down.
Get together with the rest of your data and analytics teams to evaluate no-/low-code tools for data modeling and transformation.  You will accelerate your analytics projects and produce high-quality, trusted results for your business teams.
Are you interested in learning more about Datameer and how it can deliver agility and collaboration for the "T" in your modern ELT data stack?  Please visit our website or Sign up for your free trial today!