Top 5 Snowflake Tools for Analysts
Ndz Anthony
October 19, 2022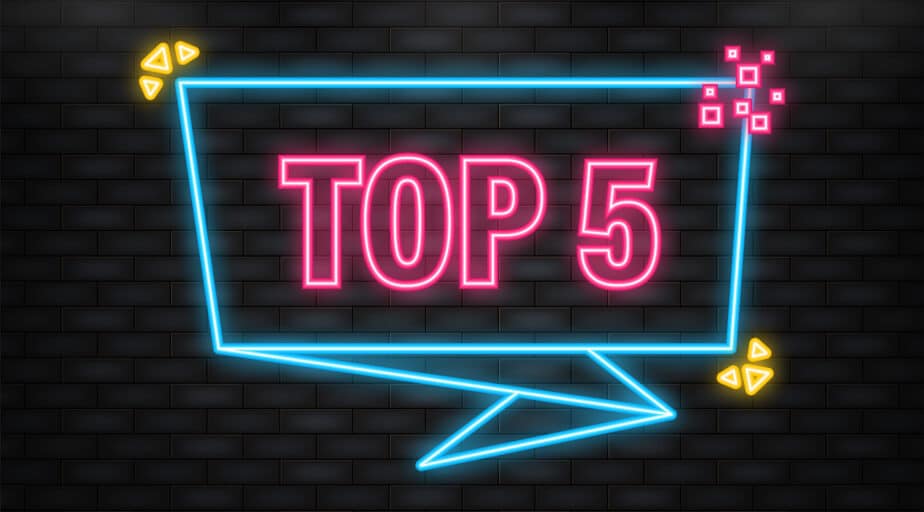 This article will outline our picks for the top 5 top Snowflake tools for Analysts.
Although these tools perform different functions, we can guarantee they are crucial to achieving an effective data-driven strategy. 
Why do I Need A Special Analyst Tool?
Can you solve a mathematical equation without knowing its formula? It's the same as trying to understand the data without data analytics tools.
Thanks to Snowflake's deep partner ecosystem, which provides data analysts full range of analytics options for data operations.
Data is the common denominator whether you are a small, medium, or large business.
Studies have shown that 90% of the world's data was created in the last four years. At such a time as this, data analysts have to leverage the right analytics tools in order to make the most of their data and stay ahead.
Let's take a look at the top 5 tools for snowflake analysts.
Top 5 Snowflake Tools for Analysts:
1. Datameer
Datameer is one of the best transformation tools available in the market, especially for Snowflake. 
It is an all-in-one solution for preparing, exploring, visualizing, and cataloging insights from the Snowflake data warehouse.
If you are looking for a no-code analytics data integration tool, this is where your search ends. It is already loved by many, including data engineers, analysts, and modelers worldwide.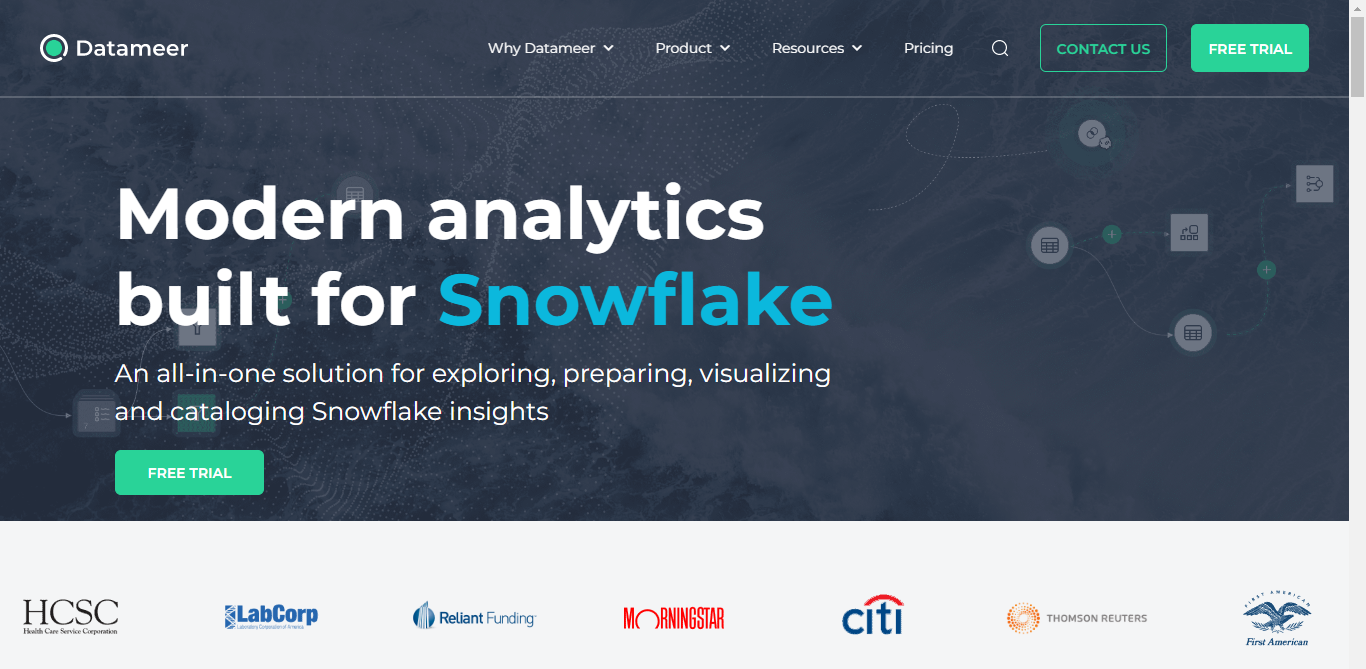 Datameer features:
Built specifically for the Snowflake data warehouse platform.

Beginner-friendly UI and easy to understand and learn.

An official Snowflake computing partner for modern data analysis.
Datameer limitations:
Tutorial videos on how to use Datameer are not exhaustive.

Support for Machine learning offerings is still on the roadmap.
Ideal for: Small, medium & large enterprises
Getting started: 
Pricing: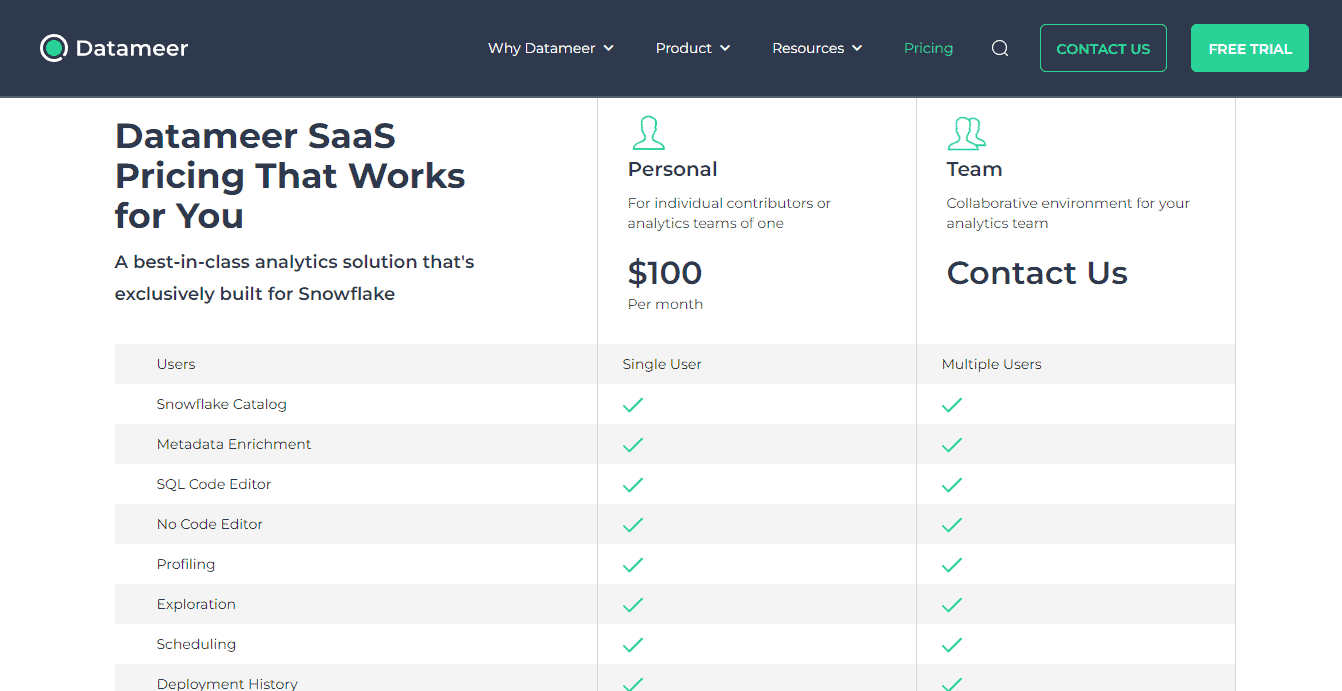 2. Alteryx
Alteryx is a trendy analytical tool trusted by fortune 500 companies like Mclaren and Coca-Cola. This tool provides end-to-end automation of analytics, data science, and machine learning processes.
It supports many robust integrations with data warehouses like Snowflake and Google cloud.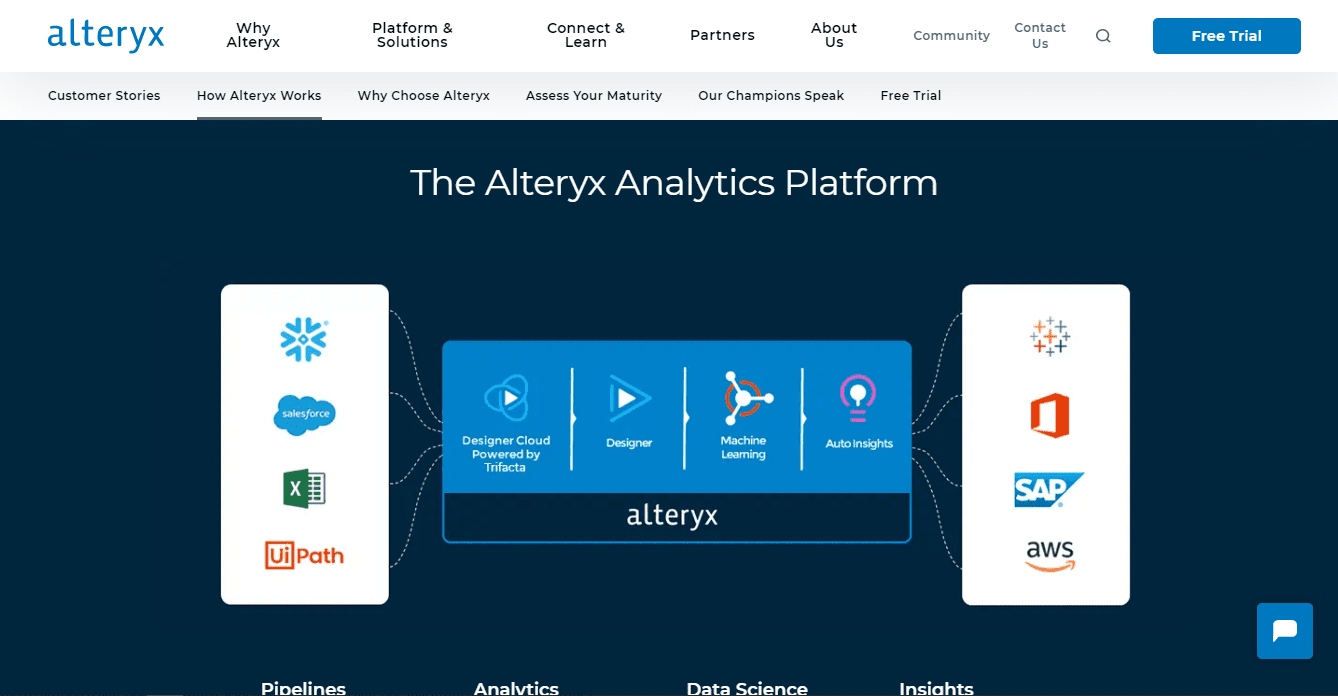 Alteryx features:
Proficient in blending, analyzing, and interpreting data faster with various no-code, low-code logical building blocks.

Quickly build the predictive models with the help of augmented machine learning without prior knowledge of coding or performing complex statistics.

A vibrant community of more than 300k+ users to learn, share and connect.
Alteryx limitations:
The workflows created in older versions are non-supportive in the new version.

Quite costly compared to all the other analytics tools available in the list.

Not beginner friendly. The user must have basic knowledge of functionalities.
Ideal for: Medium & large companies
Pricing: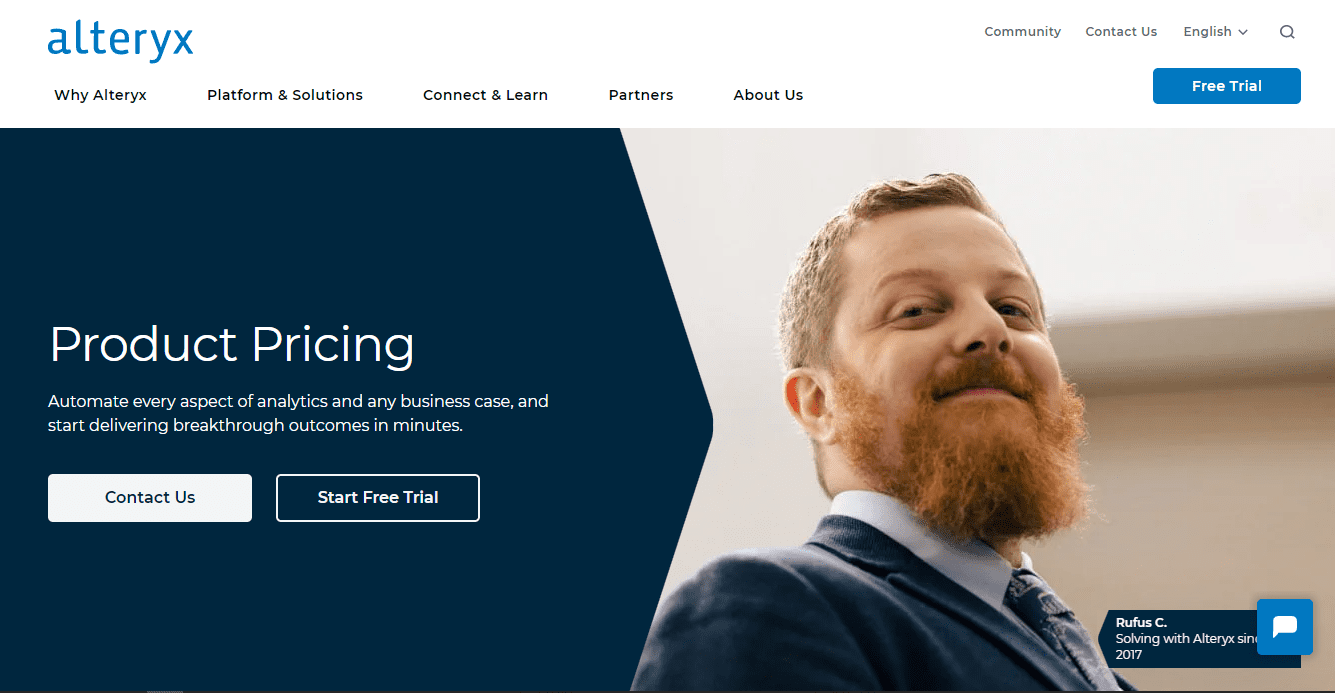 3. Talend
A powerful open-source ETL data integration tool blends perfectly with the Snowflake cloud-based data warehouse environment. 
It provides many software and services solutions for data integration, management, quality analysis, and big data. 
This tool is one of the favorites of Top Industry professionals in the field of Data Analytics.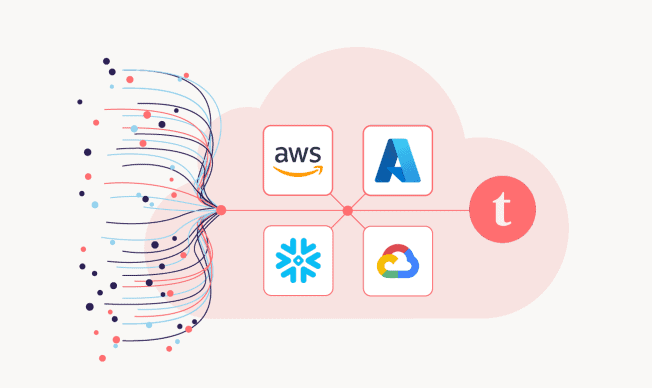 Talend features:
It can easily manage large datasets and provides highly proficient performance.

Talend open studio reduces data handling time by half, thus making time effective also.

This platform has a large user base community that is always there to help and overcome barriers in any ETL connection.
Talend Limitations:
Average technical support. The customer support system is not quite good.

It does not provide any good ways to perform unit testing of the components.
Ideal for: Small, medium & large companies
Pricing: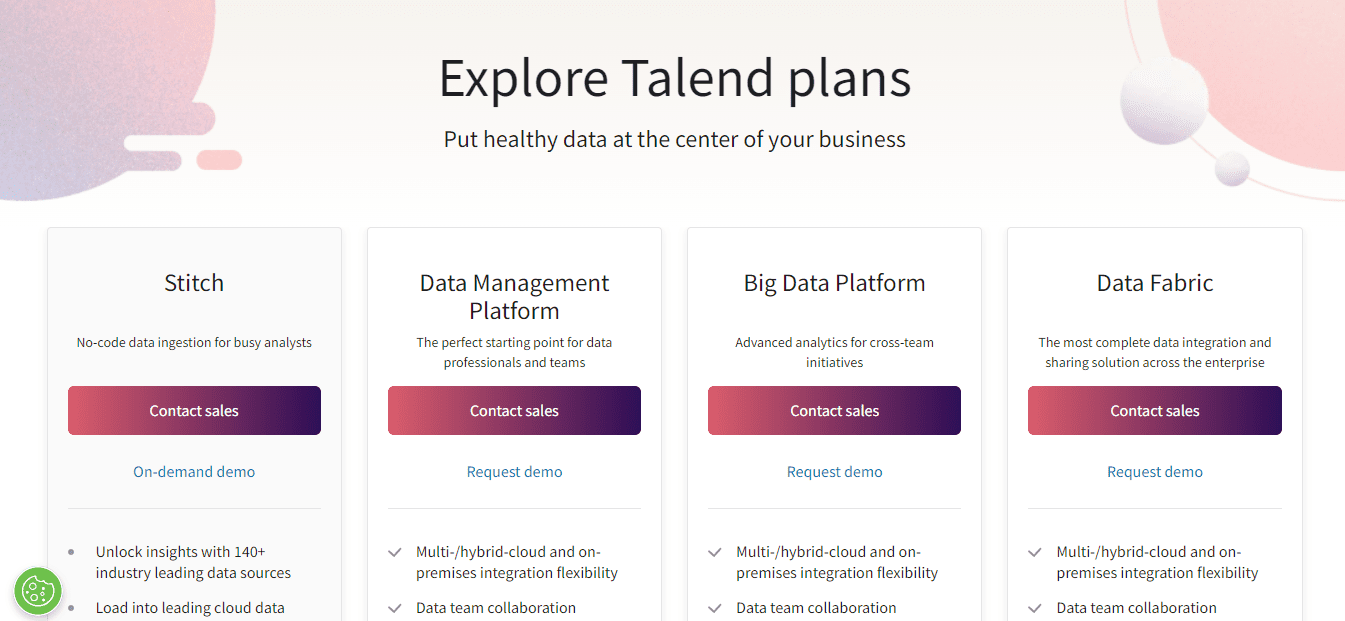 4. Informatica
Informatica is the next-gen cloud-based data processing tool based on ETL architecture.
They mainly provide two core services, including Data integration and Cloud data management for enterprises.
This tool is primarily used in various data warehouse platforms, like Snowflake and AWS, to connect and share data.
Informatica features:
Data integration for a massive amount of data can be done quickly and from multiple sources.

Analyst-friendly UI experience, helping them to do fast analysis efficiently.

Provided regular support to numerous databases like Snowflake, Teradata Mload, and many more.
Informatica Limitations:
Low flexibility of workflow monitor, hence no option for filtering out the folders.

Web-based workflow execution monitoring tool is not available in the Informatica tool.

Debugging the workflows and mappings are hard to perform.
Ideal for: Medium and large-scale enterprises
Pricing: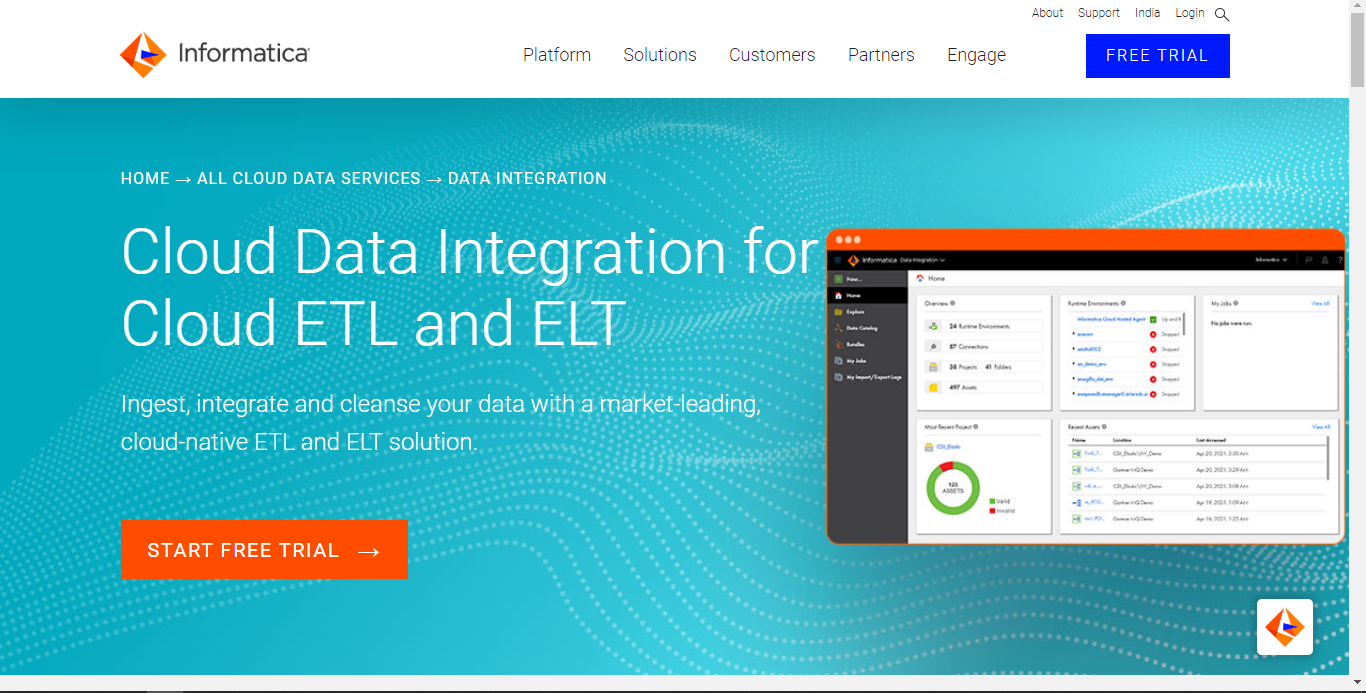 5. Matillion
It is a cloud-based data processing or ETL platform that manages data from 70+ sources like Snowflake, Google BigQuery, etc.
Due to its extensive range of databases, users can create data pipelines from various sources, providing all ETL processes solutions under one platform.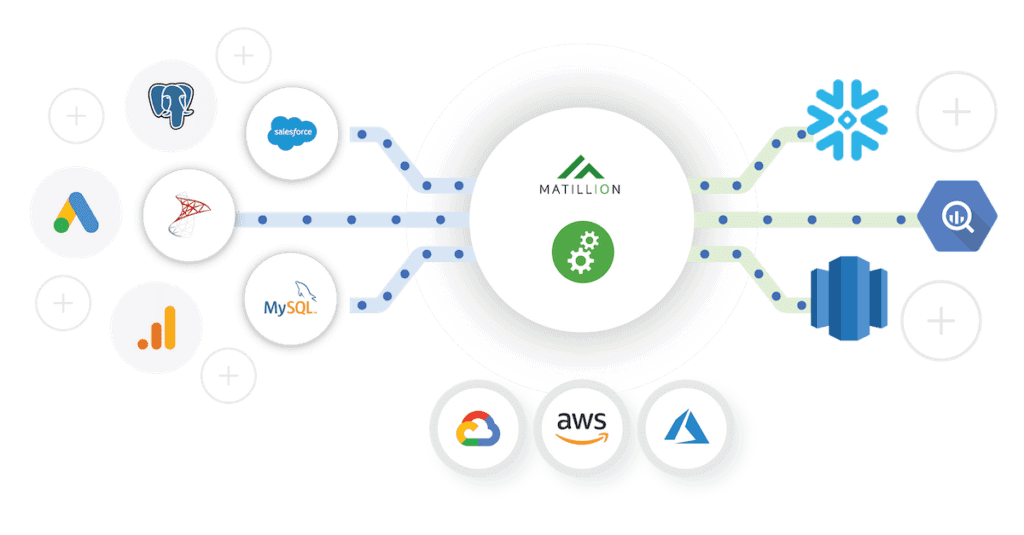 Matillion features:
Create business-ready data in minutes while quickly onboarding any data source or application with low or high-code tools.

Make your cloud data platform more enhanced and performance efficient without coding.

Provides easy customer support via an online ticketing system and mobile phone.
Matillion limitations:
It is pretty expensive for small and medium-scale businesses.

The user interface of some functionalities is complex and needs more time to understand.

The generic API functionality of this tool is difficult to understand.
Ideal for: Small, medium & large enterprises
Pricing: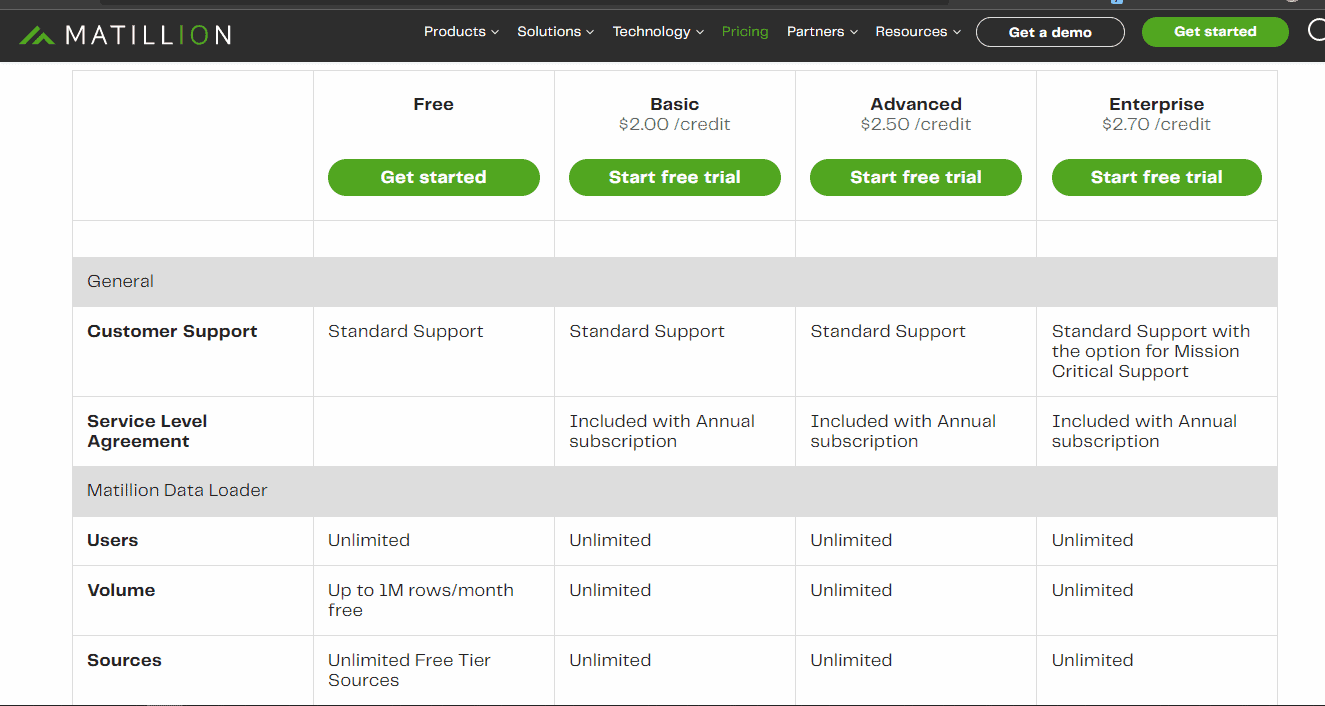 Conclusion:
As we end this list of top 5 Snowflake tools for Analysts, I hope you found the right tool for your business that allows you to drive more holistic insights and performance on your platform.
There are already hundreds of Data Analytics and ETL tools available in the market that supports the Snowflake integrations, but these five tools make the best out of your business.
Happy data discovery!