Introducing ELT++: Get More from Your Data Transformation
John Morrell
January 31, 2022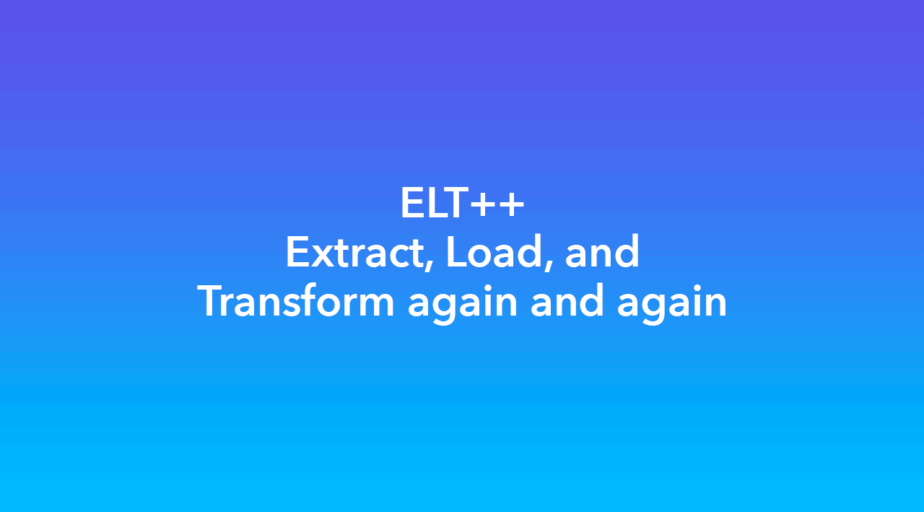 As data and analytics teams move to the cloud, many data stacks and pipelines are shifting from older ETL (extract, transform, and load) approaches to ELT (extract, load, and transform) to take advantage of the power and low cost of cloud data warehouses.  However, organizations are finding that this process is really "ELT++": Extract, Load, Transform, and Transform more).
Survey of Data and Analytics Professionals
Datameer recently surveyed over 870 data and analytics professionals to get their thoughts on a variety of trends and practices within their organizations.  The demographics of the respondents were very diverse across different roles (data engineers, data analysts, business analysts, data scientists, and management) and various team sizes.
When asked about their approaches to data pipelines between ETL, ELT, ELT++, or a mix of these, the largest response was for ELT++ with 36.8% of those surveyed (see chart below).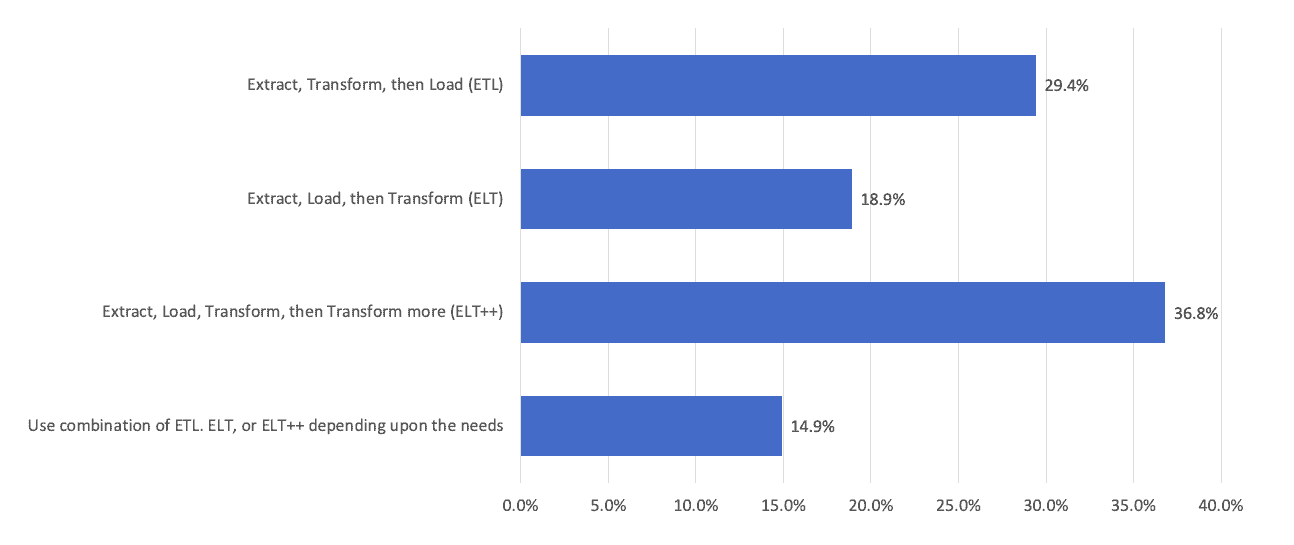 Why ELT++?
An ELT++ approach provides the greatest flexibility and lets different team members contribute to the process as well as collaborate.  In a later question, respondents were asked about how they collaborate for data modeling and transformation, with over 73% saying they collaborated in one or multiple forms (shared repositories, modeling sharing, documentation, or knowledge sharing).
With an ELT++ approach, data engineers can perform the first form of data transformation, taking raw data from the sources, organizing, and cleansing it.  Analysts can then participate in the process for the final modeling and transformation step to get the data into the best form for the final analysis.  Such an approach is well articulated in our eBook, How to Transform Your Data for Analytics.
Datameer
Datameer's SaaS data transformation platform focuses on the T++ – transformation – in your ELT++ modern data stack.  Datameer is the industry's first collaborative, multi-persona data transformation platform integrated into Snowflake.  The multi-persona UI, with no-code, low-code, and code (SQL) tools, brings together your entire team – data engineers, analytics engineers, analysts, and data scientists – on a single platform to collaboratively transform and model data.  Catalog-like data documentation and knowledge sharing facilitate trust in the data and crowd-sourced data governance.  Direct integration into Snowflake keeps data secure and lowers costs by leveraging Snowflake's scalable compute and storage.
Through the multi-persona UI, sharing, collaboration, and knowledge-sharing, Datameer fully enables T++ in your Snowflake cloud data warehouse.  Any user, regardless of programming skills, can transform data to their specific needs.  Data engineers can do the first level of data transformation to ensure quality and reliability while data and business analysts can perform the final mile of data transformation to create the best and most accurate dataset for their analytics problem.
Are you interested in learning more about Datameer and how it can deliver agility and collaboration for the "T++" in your modern ELT++ data stack?  Please visit our website or Sign up for your free trial today!