How to Find and Replace in Snowsight
Jeffrey Agadumo
December 29, 2022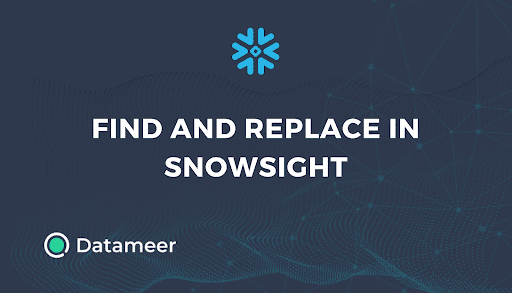 In this article, we highlight features that distinguish Snowsight from the traditional Snowflake console and show you how to use the Find and Replace functions in Snowsight.
In January 2021, Snowflake announced that Snowsight – its more user-friendly web UI console – would be available for public preview on AWS, Azure, and GCP (Google Cloud Platforms).
Following this announcement, members of the Snowflake community expressed concerns that some features on the classic console weren't available on Snowsight. 
Since then, Snowflake has released newer versions of its software, adding features with each release.
Snowflake Classic VS Snowsight 
When Snowsight went public, analysts quickly discovered that lots of the features on Snowflake's classic console (the then default) were no longer available on Snowsight. 
Recurrent among these were the Find and Replace functions for text on a worksheet.
These issues slowed the adoption of Snowsight, especially by legacy users – longtime users of the classic console – as some saw no need to reinvent the wheel.
Snowflake, however, had bigger plans for the new web interface. In October 2022, they made Snowsight the default interface and said they would phase out the classic console entirely by January 2023.
But no need to panic! 
Newer version releases incorporate most of the missing features and make navigation on Snowsight more user-friendly. And future versions will resolve other issues identified by the Snowflake community.
Here are some ways that Snowsight outperforms the classic console:
Improved worksheets Navigation
Snowsight worksheets are displayed as files in the 'Worksheets' section of the side menu; This makes navigating through worksheets easier – some would say – than the traditional console, which arranges worksheets as a table row. 

Snowsight displays errors in the results pane when running SQL on a worksheet. It also highlights erroneous text or commands, making it easier to debug long lines of SQL code.
Auto Complete Suggestions 
Snowsight makes SQL coding a lot more convenient. It generates auto-complete suggestions when you type queries to prevent misspellings and help type queries faster.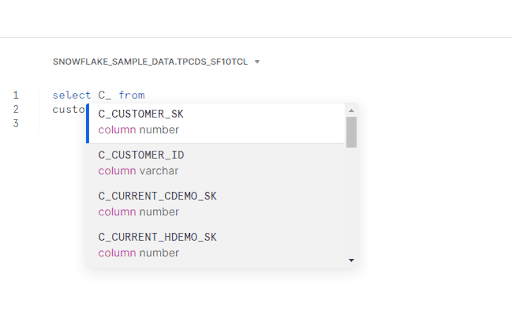 With Snowsight, you can generate charts from query results with a  visual breakdown of the returned data provided for you automatically as scorecards.
Visualizing query results can also be done in the dashboards section by opening worksheets as tiles.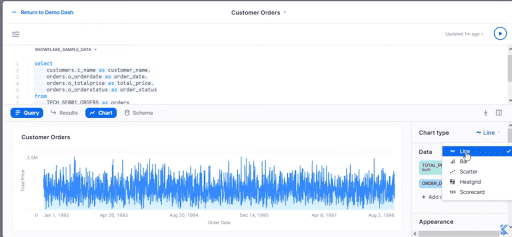 Find and Replace in Snowsight
In May 2022, Snowflake issued version 6.17 release notes. Find and replace functions – to search for text and replace all instances of that text – were implemented on Snowsight following this release.  
Here's a detailed step-by-step process we curated for you on how to use the find and replace functions: 
Opening Worksheets
1. Login to your snowflake account 
Note that new accounts created on Snowflake have Snowsight as the default UI.
The Snowsight dashboard is displayed when logged in, and you can access the Worksheet tab.

If you are using the classic console, you will need to click on the Snowsight preview button to access its dashboard.

2. Select a worksheet.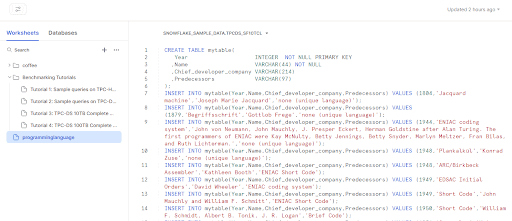 Find
3. To use the find function, type the shortcut 'Ctrl + F' on windows or 'Command/Ctrl + F' on mac to open the search bar.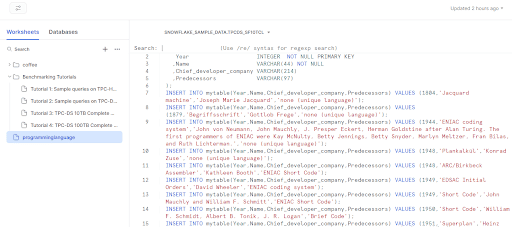 4. Type the keyword you're searching for in the search bar and press enter. All instances of the keyword will be highlighted yellow.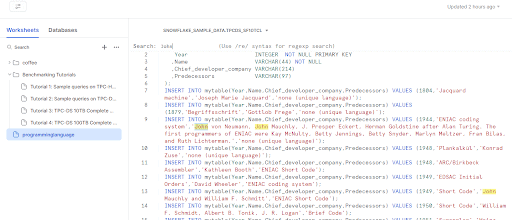 Replace
5. To use the replace function, type 'Shift + Ctrl + F' or 'Shift + Ctrl + H' for windows or 'Shift + Command/Ctrl + H' for mac to open the replace toolbar 
6. In the toolbar, type in the text to be replaced so the system can identify all instances.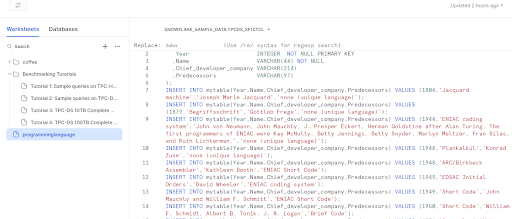 7. Type in the text to replace all instances of the previous text and press enter.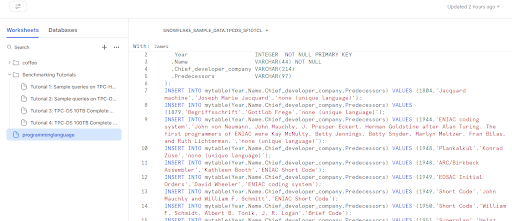 8. Finally, click on the 'Yes' button to replace the first instance of the text only, or click on the 'All' button to replace all instances of the text.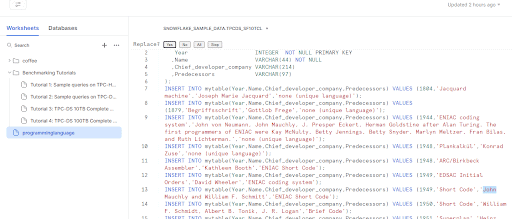 Note: You can also select the 'No' button to input a different replacing text or the 'Stop' button to cancel the operation.
Outlook
Granted, members of the Snowflake community are still finding minor issues with the new Snowsight interface, and some users would prefer that Snowflake keeps its traditional console.
One thing is certain, as subsequent versions of Snowflake are released, the snowflake community will have all their concerns addressed. And who knows, legacy users might just come to love it.
Wrap-Up
I can't think of a better way to wrap this article up than introducing a tool with no hassles and surprises.
A tool so easy to use that any member of your modern data stack team can use it on Snowflake without technical coding skills.
You heard right!  
Datameer is a SAAS tool built on top of Snowflake that provides a highly scalable and flexible environment to transform your data into meaningful analytics.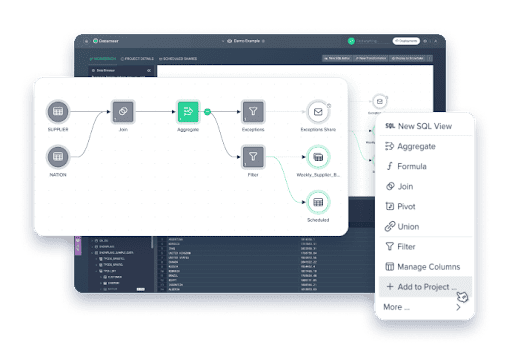 Allow your team to visually explore, build, and automate data insights without SQL code.

Search across your entire data landscape with a built-in data catalog

Transform datasets using SQL or hundreds of pre-built operations.

Empower your data teams with varying skill sets to innovate and collaborate faster.

Automate data delivery, exception handling, data quality, and more with configurable, data-driven workflows.

Advanced features for deploying, versioning, and monitoring your work.
All in one solution – Datameer!!!
Register for free now to start harnessing the power of intelligent data transformation.