Tableau: A Beginner's Guide
Justin Reynolds
April 23, 2020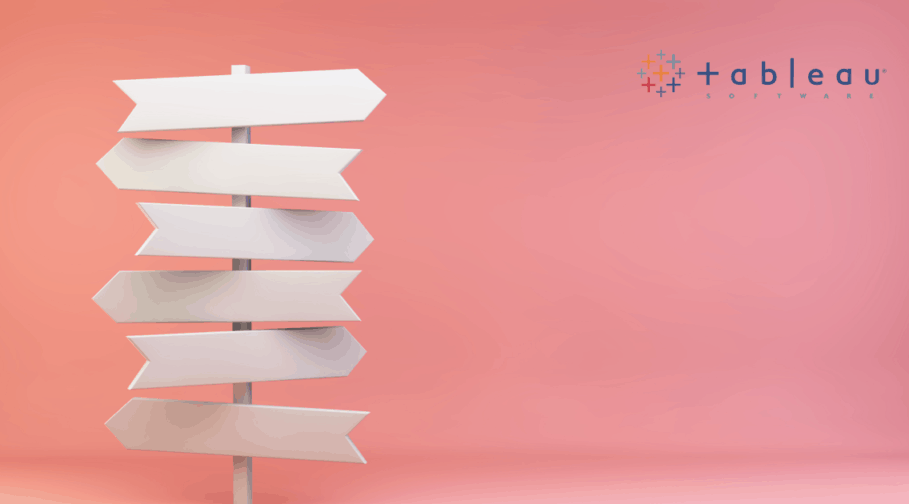 A beginner's guide to Tableau, the leading software suite that businesses are using to visualize and understand their data. 
Tableau for Beginners
Big data demand is stronger than ever as organizations across all industries are looking for information to gain a competitive edge. 
It's easy to see why considering that data-driven companies are expected to take $1.8 trillion annually from less-informed peers by 2021. What's more, data-driven companies are also 23 times more likely to acquire customers.
For data to be useful, though, it needs to be adequately prepared. Data must first be cleaned, organized, and presented so that employees can easily understand and share. To streamline this process, a growing number of businesses are turning to the Tableau family of products. 
What is Tableau?
Tableau is a highly scalable business intelligence (BI) platform that helps companies turn raw data into actionable insight. With Tableau, businesses can migrate from using spreadsheets and forms to flexible, dynamic dashboards that are highly visual and interactive.   
The Tableau suite is now being deployed by businesses of all sizes—from small nonprofits to large enterprises. It's prevalent in healthcare, government, education, IT, marketing, and insurance environments, among others. 
The Tableau Suite: An Overview
Here's a breakdown of the various products that Tableau offers.
Tableau Prep
Before data can be analyzed for reporting, it must be properly prepared to ensure data quality. Tableau Prep allows engineers to clean, merge, and process data for use in Tableau Desktop.  
Tableau Desktop
Tableau Desktop enables users to create custom dashboards, workbooks, and visualizations for their data. Tableau Desktop allows teams to connect to data either on-prem or through the cloud in spreadsheets, SQL databases, and cloud apps such as Salesforce and Google Analytics. 
Tableau Server
After creating workbooks and visualizations in Tableau Desktop, they need to be shared safely and reliable. To accomplish this, teams use the Tableau Server, a highly secure, centralized, web-based repository used for disseminating data. 
Tableau also offers Tableau Server Management, an add-on for running large, mission-critical Tableau Server workloads. Tableau Server Management is a hub that makes it easy to manage the Tableau Server. For example, this add-on offers the Tableau Resource Monitoring Tool, which provides advanced insight into Tableau Server cluster performance. 
Tableau Online 
In addition to Tableau Server, the company also offers Tableau Online, a cloud-based SaaS solution. Tableau Online hardware and software are maintained by Tableau and therefore live outside of the customer's firewall. 
Tableau Online works with Amazon Redshift, Google BigQuery, and SQL-based sources that run in the cloud. 
Head to the Tableau Community for a complete breakdown of Tableau Server vs. Tableau Online (more on the Tableau Community below).
Tableau Mobile is a mobile app that enables on-the-go access to both Tableau Server and Tableau Online. 
Tableau Data Management (Add-on)
Data quality is critical for success when running any advanced analytics operation. Tableau offers the Data Management Add-on to make this process easier, which helps customers ensure they are using trusted, up-to-date data. 
This add-on—which automates data management and supports data discoverability—integrates directly with the Tableau platform.
Tableau Data Management comes with two additional components:
Tableau Catalog
It can be challenging to track data and understand how it's used across complex operating environments. To help streamline management, Tableau offers the Tableau Catalog that ships with features like impact analysis, lineage, data dictionary, search, and data quality warnings.
Tableau Prep Conductor
Tableau also offers the Tableau Prep Conductor, a tool that allows teams to schedule, share, and run flows in a server environment. With this tool, teams will always have access to prepped and updated data.
Embedded Analytics 
Tableau also makes it easy to integrate BI capabilities into existing products, apps, and websites with the Tableau Embedded Analytics platform.
With Embedded Analytics, customers can discover unique insights within existing tools, add extra value to services, improve user experience, and enable data-driven self-service. 
How Often Does Tableau Release New Versions?
The agile nature of Tableau means their team is constantly working on new software versions. The company releases four versions of Tableau every year—once each quarter. 
Each version of Tableau is named after the year's quarter. In 2019, for example, the company had released Tableau v.2019.1, v2019.2, v2019.3, and v2019.4.

Tableau changed its version numbering after the release of Tableau 10.5.
"As we've accelerated our speed of development, we can now deliver new product capabilities at a faster pace," Dan Jewett, Tableau's VP of product management, explained in a post about their new version numbering. "Instead of aligning our most impactful features for a larger .0 release, we will deliver new features as soon as possible. This pattern of numbering also aligns with the industry norm for cloud software and subscription licensing."
The company provides a detailed breakdown of every Tableau release on its website.
Marketing Positioning and Competitors 
The Tableau brand received a major boost in August when Salesforce acquired the company for $15.3 billion. Tableau will continue operating independently under the Tableau brand, as a part of Salesforce, and led by CEO Adam Selipsky and its existing leadership team.
The acquisition combines Tableau's powerful analytics engine and robust portfolio with the world's strongest CRM platform, providing a tremendous opportunity for customers. At the same time, Salesforce's support will give Tableau the ability to scale and remain a global leader in the ultra-competitive BI industry, which is on pace to reach $26.88 billion by 2021—up from $17.09 billion in 2016.
This market is being fueled primarily by increasing cloud adoption, the demand for advanced analytics, the adoption of data-driven decision making, and the emergence of IoT-enabled technologies. Global organizations turn to BI to manage massive data sets and process them to provide rapid and accurate access to valuable insights. 
Tableau's main competitors include IBM, Microsoft, SAP, Oracle, SAS Institute, Qlik, MicroStrategy, Information Builders, Pentaho, TIBCO Software, Sinsense, Panorama, and Yellowfin.
Different Licenses
There are three Tableau licensing models to choose from, all of which are billed annually.
1. Creator 
According to Tableau, every deployment requires at least one Creator license. 
The Creator license includes Tableau Desktop, Tableau Prep Builder, and one Creator License for Tableau Server.
Price: $70 user/ month (deployed with either Tableau Server or Tableau Online) 
2. Explorer
The Explorer license includes one Explorer license of Tableau Server or Tableau Online. 
Price: $35 user/month (Tableau Server) and $42 user/ month (Tableau Online); both require purchasing a minimum of five licenses
3. Viewer 
The Viewer license includes one Viewer license of Tableau Server. 
Price: $12 user/month (Tableau Server) and $15 per user/month (Tableau Online); both require purchasing a minimum of 100 licenses. 
Explore the Tableau Community 
Tableau offers a comprehensive community with many opportunities for tableau beginners to learn and engage with other users and company decision-makers. 
For example, the Tableau Community offers quick tips, product explanations, Tableau forums, sample dashboards, and even opportunities to create and vote on product ideas. 
Check out the Tableau Community.
Many organizations use tools like Tableau every day to figure out the best way forward. A lot of them also use other tools, like Looker and PowerBI, at the same time. Learn more about the easiest way to bring data from all these systems together—unlocking the full power of all your analytics assets along the way.
Are you looking for a no-code or low-code data transformation solution for Tableau that your data and analytics team can use?
Learn more about our innovative SaaS data transformation solution with direct integration into Snowflake, Sign up for your free trial today!