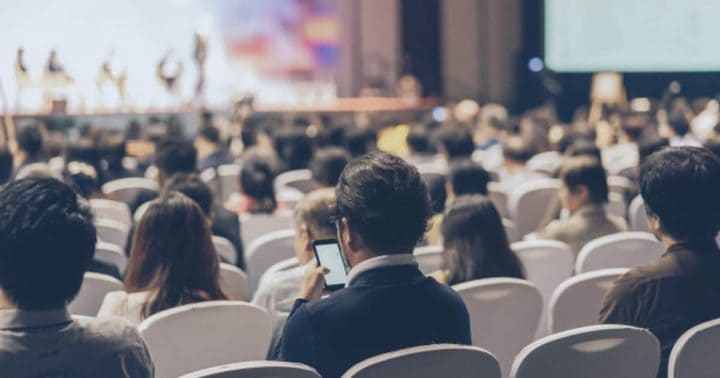 5 Conferences Analytics Professionals Should Attend in 2019
Benoite Yver
August 5, 2019
Data science and analytics are quickly becoming a top priority for businesses looking to stay ahead of their competitors. The field is also dynamic and is growing at an incredible speed. As such, it's a bit challenging for most data scientists and analytics professionals—and beginners in particular—to keep up with trends in the digital analytics industry.
One of the easiest ways data scientists and analytics teams can remain on top is by prioritizing continuous learning and keeping an eye out for the latest trends in the field. The best way to do that is by attending some of the field's most popular conferences, which provide professionals with the opportunity to mingle with top leaders and data enthusiasts in the data-driven community.
With that in mind, let's take a look at five must-see digital analytics conferences that professionals looking to grow in this field should attend.
1. Digital Analytics Hub
A gathering of professionals in the same field always turns out to be engaging and exciting. There's no better environment for exchanging cutting-edge ideas and collaborating on them, there are tons of opportunities for networking, and everyone who attends is practically guaranteed to learn a thing or two. Participants also get to share great insights into some of the biggest challenges in their field and work with other attendees to figure out the best way forward.
Digital Analytics Hub is an analytics conference that routinely stands as one of the premier events for digital analytics professionals. This annual meeting brings digital analytics experts and beginners together with the sole aim of providing everyone with an opportunity to teach and learn about the latest trends in the data analytics industry.
As the conference progresses, participants usually exchange ideas and improve on them. Prominent analytics professionals are also offered given opportunities to shine a light on new areas, challenges, and future opportunities the field is facing. Not only will conference attendees gain knowledge, they will leave motivated to drive their industry forward and build successful careers.
Simply put, the Digital Analytics Hub conference is a must-attend for analytics professionals. It's packed with activities that will help you sharpen your analytics skills and get to the next level. Attendees will have a rare opportunity to meet with the United States' leading analytics practitioners and interact with data scientists who have already left a mark in the field.
Participants will also have the unique opportunity to share, learn, and grow their network. But limited seats are available. If you're interested in attending, we advise you to secure your tickets as early as you can.
The Digital Analytics Hub conference will take place from September 9–11, 2019 at the Lansdowne Resort & Spa in Leesburg, VA. The price for a three-day conference pass is $2,357 until August 30, 2019. After that, the price increases to $2,557. Two-day conference passes cost $1,957 until August 30, 2019 and then increase to $2,157.
2. MeasureCamp
MeasureCamp gives analytics professionals the opportunities to share their knowledge, learn, build confidence in the field, and grow. MeasureCamp is an "unconference" due to the fact that its format differs from a conventional conference. Participants—not organizers—decide the schedule. Unlike a run-of-the-mill tradeshow, MeasureCamp is a participant-driven meeting with no sponsored presentations of any sort.
In 2017, 15 MeasureCamps were held around the world in 13 different cities. The conference is open to everyone and free to attend. Participants are encouraged to get deeply involved in each discussion, learning as much as they can at their own pace. Any attendees interested in presenting are encouraged and allowed to do so, as the conference doesn't have any predefined speakers.
MeasureCamp attracts participants from various industries and data analytics skill levels. At each conference, you'll run into hundreds of digital analytics professionals working through the industry at top-level companies, prominent agencies, and everything in between.
Attendees will not only learn new techniques and get exposed to innovative software solutions, they will also be able to share ideas and raise concerns about all things digital analytics. Whether you're just starting out in the field or are at the apex of your data analytics career, this conference has something to offer everyone.
MeasureCampSF begins September 28, 2019 at 9 a.m. PT. The conference will be held at Golden Gate University.
3. DAA OneConference
The Digital Analytics Association's OneConference is another massive event for analytics professionals. The majority of those in attendance are members of the association—which turns 15 this year—so networking opportunities are abundant and won't feel forced.
The organizers of OneConference promise that the two-day event will be something participants won't forget any time soon. International speakers and prominent leaders in the analytics field will share their deep knowledge and offer insights into their experiences, making the conference a memorable event for everyone who attends.
OneConference includes a series of educational sessions where participants will learn about the latest technologies and trends in today's world of analytics. Attendees will also have the opportunity to listen to industry influencers who will explore changes in the market and share insight into what the future holds for analytics professionals. Another highlight of this conference is the annual Quanties Awards—which is the highest and most prestigious award in the digital analytics field.
The number of innovative educational sessions, the caliber of attendees and presenters, and—of course—the Quanties add up to deliver an engaging and energetic conference. Attendees will also have the opportunity to participate in small group workshops to reinforce their learning.
The bottom line? DAA's OneConference is a powerful event for data scientists and analytics practitioners looking to boost their analytical knowledge. You may not want to miss this one.
The DAA OneConference takes place October 23–24, 2019 at Venue SIX10 in Chicago, and registration is still open. The price for admittance is $799 for DAA members and $1,049 for non-members. The registration fee gives participants access to all educational sessions and meal functions, as well as admission to the Quanties awards and access to presentation materials from speakers after the event.
4. JOIN by Looker
Looker's JOIN conferences have always been a massive success. Fresh off its acquisition by Google, the 2019 edition promises to be even more spectacular than usual. If you're a data enthusiast interested in learning about the latest in data analytics and innovation, this conference is right up your alley.
JOIN brings everyone in the data-driven community together: data scientists, analytics professionals, AI and machine learning folks, and more. As an attendee, you will have lots of opportunities to mingle with peers, meet new professionals in your space, and learn about transformative ideas you can implement in your own workflows. Whether you're a seasons analytics expert or you're just starting out in the field, JOIN has something for everyone.
The conference features more than 50 informative sessions led by industry specialists. Tracks include Analytics for Every Use, Leading a Data-Driven Organization, Building and Monetizing Applications, and Advanced Data Modeling Methods, so there's really something for everyone here. Additionally, there will also be upwards of 35 hands-on labs geared toward analytics professionals of all levels, and keynotes from folks at companies like WeWork, Namely, and the Chicago Cubs, among others.
Conference attendees will also be able to ask members from Looker's Department of Customer Love questions about their data stacks and how they recommend organizations can build cultures that prioritize data. There's also a hackathon at JOIN, so you can join other members of the community to build new tools on the Looker Data Platform if you're so inclined.
If you're local to San Francisco—or if there's room in your budget—this event is without a doubt worth checking out.
The JOIN 2019 will be held November 5–7, 2019 at SVN West in San Francisco. Registration is still open and tickets are available for $875.50.
5. Tableau Conference
Get this: Last year's Tableau Conference had over 17,000 participants! You read that correctly. If you're thinking about heading to Las Vegas this year, get ready for even bigger crowds, as they're preparing for more than 20,000 attendees to drop by.
This year's Tableau Conference includes over 356 different sessions. Yes, you read that correctly, too. Regardless of industry, skill level, or career goals, participants won't have any problem finding an abundance of sessions that align with their interests. Additionally, there will be lots of live demos of Tableau's various features led by the developers who built them. Who better to teach you how to master a powerful platform?
Having a problem with your Tableau instance? Stop by the Tableau Doctor either by booking a one-on-one consultation or stopping by the "walk-in clinic" when your schedule allows for a 45-minute appointment. Get access to a dedicated doctor to help you overcome challenges, review and optimize your deployment, find your way around advanced tools, and more.
Despite having one of the largest data-driven communities, Tableau Conference also features various expert-led sessions that encourage participants to get involved in analytics at different levels. Some sessions include The World of Social Media Analytics; Lies, Distortions, and Misrepresentations in Visualization; and Lockheed Martin's Progressive Approach to Powering Adoption at Enterprise Scale. In addition to the fleet of Tableau talent presenting at the conference, speakers come from companies like Accenture, Booz Allen Hamilton, Bristol-Myers Squibb, Capital One, IBM, JPMorgan Chase, LinkedIn, and Snowflake, among others.
When you leave this conference, you'll be excited to put your learning into practice and unlock even more value from your data while further sharpening your data analytics skills.
Looking for a little bit more than sessions? Attendees can also sign up for pre-conference training workshops ($695) and certification exams ($85–$700). And if you want a partner or friend to join in on the fun, guest passes that give access to the Welcome Reception and Data Night Out are available for $300. Tableau Conference also includes a hackathon, so get ready to build some awesome tools with colleagues and strangers (if coding is your thing, that is).
If you can only go to one conference this year, Tableau Conference is definitely one worth considering.
Tableau Conference 2019 takes place from November 12–15, 2019 at the Mandalay Bay Convention Center in Las Vegas. Full conference tickets are available starting at $1,895.
Why You Should Attend Analytics Conferences
Conferences aren't just events. They're a platform that brings analytics professionals from different parts of the world together. In the end, those who attend conferences leave inspired because they are exposed to new ideas, tools, and techniques in the field, and they get to meet tons of brilliant people while reconnecting with familiar faces along the way.
Whether you're an expert in analytics or just starting, you need to seriously consider attending the most appealing conferences—assuming you want to stay ahead of the curve in the space.
Despite the increasing importance and adoption of analytics and machine learning, there's a big shortage of qualified data scientists today. This shortage might continue if things stay the same way.
Conferences, however, can bridge this gap. By helping business leaders become more data-savvy, exposing data scientists to groundbreaking new ideas and technologies, and encouraging beginners to develop deeper knowledge in data analytics, conferences can go a long way toward helping organizations unlock the full value of their data—and helping professionals like yourself reach their full potential.