Top 7 Ad-hoc analysis and Bi tools for Snowflake in 2022
Ndz Anthony
November 8, 2022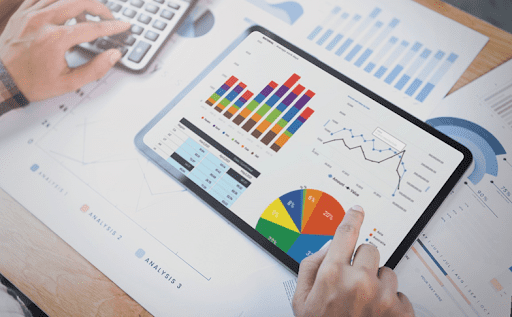 This article will discuss the current state of Snowflake business intelligence, the characteristics of a good Snowflake BI tool, and our top 7 recommendations for Snowflake BI tools for ad-hoc analysis.
Nowadays, most enterprises perceive the need to scale with the help of BI and Machine learning.
That's fine, BUT how about daring to be amongst the fortune 500?
There are a lot of factors that contribute to making this list. However, one thing that stands out with these fortune companies is their ability to see ahead using data – the art of a data-driven culture.
A data-driven approach requires robust data technology, good data culture, and promising BI/data tools.
"According to the report, Snowflake has served 241 Fortune 500 companies and 488 of the Global 2000 companies by the end of 2022."
Current State of Snowflake BI:
Snowflake provides data scientists and analysts with a worldwide, uniform framework for handling all kinds of data, including unstructured data.
The Snowflake Data Cloud continues to innovate to make data analytics accessible to all business users.
Snowflake is a platform that allows customers to focus on front-end activities like building out applications and performing BI.
With its architecture, it takes away the hassle of dealing with processing, maintenance, and optimization.
According to the report, the "Business Intelligence" sector is the most likely to use the Snowflake platform, followed by the "Big Data" and "Technology" industries. (as shown below)

Best Snowflake BI tool for your business:
Snowflake provides native connectivity to almost every Bi tool in the marketplace.
BI tools like Power Bi, Tableau, Datameer, and Looker are leading nowadays, but jumping on any and every tool is like trying to fit different shapes into a square hole.
What makes a BI tool right for you is its ability to fit your square hole – your business requirements.
Selecting a Snowflake Business Intelligence (BI) can be time-consuming because there are many out there.
And that's why we have outlined a category-based list of Bi tools to consider when brainstorming which Snowflake BI tools to use.
Here's a brief breakdown:·
Enterprises Solution – Power Bi, Tableau
Ad-hoc, tight integration with Snowflake – Datameer, Panintelligence
Open source/Free – Google Data Studio, Metabase
Essential characteristics of a good Snowflake Bi tool
1. Support for cloud deployments: Because BI and business analytics systems are increasingly being implemented in the cloud, cloud support, particularly multi-cloud capabilities, is becoming an everyday need in BI solutions.
2. Augmented Analytics and machine learning support: Natural language querying and AI-driven tools that assist users with data discovery, data preparation, and other BI operations are gradually becoming key components of prominent Bi tools.
3. Ability to filter data and drill down features: Any quality data tool should, at the bare minimum, allow users to filter the information of a dashboard or report by data values, with features like drop-down menus, search filters, and slicers.
It should also allow users to dig down from summary data to more comprehensive data for additional analysis.
4. Easy data sharing and collaboration features: Being able to share and collaborate on BI models and report aids in achieving data literacy and democratization within an organization.
5. Easy-to-navigate UI and data storytelling tools:
A good BI tool should have a seamless, easy-to-adopt UI.
This will facilitate data discovery and storytelling, which by the way, are essential aspects of communicating the findings of BI systems to company leaders.
Storyboarding allows a sequence of data points and visuals to be linked with narrative language in a shareable presentation. This is difficult with a poor UI interface.
Top 7 Snowflake BI tools for ad-hoc analysis in 2022
The crux of data-driven culture is ad hoc analysis.
Without further ado, let's explore the "Top 7 Bi tools for Ad-hoc reporting in Snowflake, in 2022."
1. Alteryx:
Alteryx is frequently used to prepare, and model data for analysis with other Bi tools and also provides the self-service Bi software solution with an increasing emphasis on automation and usability.
This tool is particularly effective for connecting to and cleaning data from data warehouses, cloud apps, spreadsheets, and other sources under a unified interface for business and data analysts.
2. Datameer:
Datameer assists teams in enabling self-service, unlocking development, and improving analytical workflow.
To handle complicated analytical problems, Datameer enables data engineers and analysts to convert and model data directly in their cloud warehouses using a simple SQL code or no-code interface.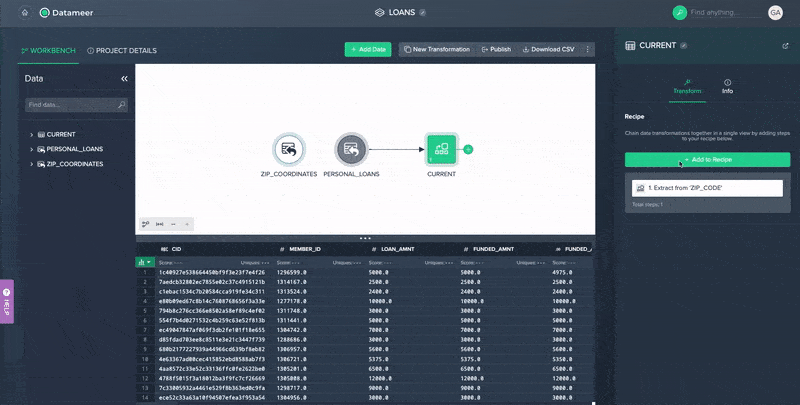 3. Power Bi:
Power BI is a set of software services, applications, and connections that transform disparate data sources into cohesive, visually engaging, and interactive insights.
Your data might be an Excel spreadsheet or a collection of cloud-based and on-premises hybrid data warehouses, such as Snowflake.

4. Oracle Cloud Analytics:
Oracle Analytics Cloud is a robust and secure Oracle Cloud service that delivers a comprehensive range of capabilities for you, your workgroup, and your company to explore and execute collaborative analytics.
Oracle Analytics Cloud also provides flexible service administration features, such as quick setup, simple scaling and patching, and automated lifecycle management.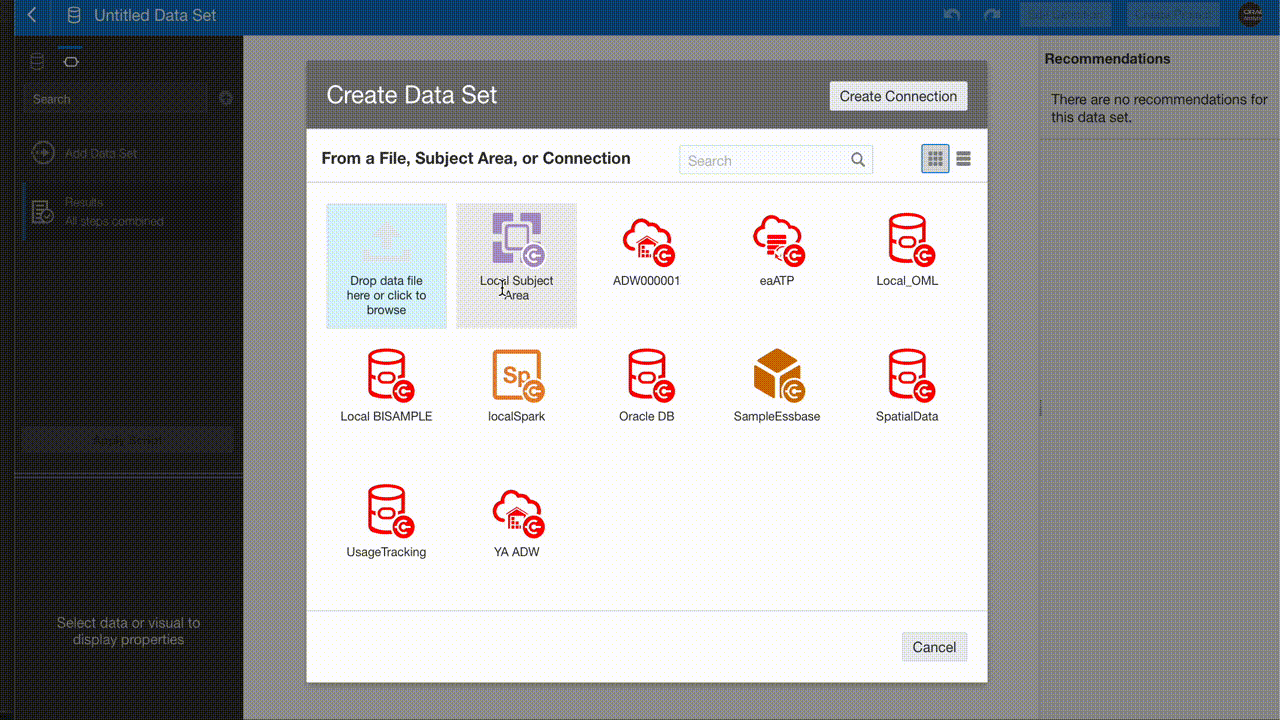 5. Domo:
Domo's cloud-based platform enables self-service BI for company leaders and managers, focusing on usability, dashboards, and augmented intelligence features.
Domo can assist you in consolidating data, democratizing your business, socializing critical goals, and creating accountability.
6. Qlik sense:
Qlik Sense is a straightforward and interactive data visualization application that allows users to import and combine data from various significant data sources. They may then utilize the software's visualization features to transform raw data into relevant information.
Qlik sees QlikView as a possible rival as an efficient big data solution since it can integrate with various data sources at the same time.
7. Tableau:
Tableau is now the most popular and leading BI product. It provides extraordinary visualization capabilities and a flawless front-end graphical user interface. It also includes specific analytics modules that users may utilize directly on their data.
It also allows users to create app objects, configure dynamic graphics, and transmit reports and documents to other users through the web.
Conclusion: Top 7 Bi tools for Ad-hoc analysis in Snowflake in 2022
We hope this list was exhaustive and helped you gain some insight into some key players in the Adhoc/BI market.