Enhancing Your Snowflake UI Experience
Ndz Anthony
January 9, 2023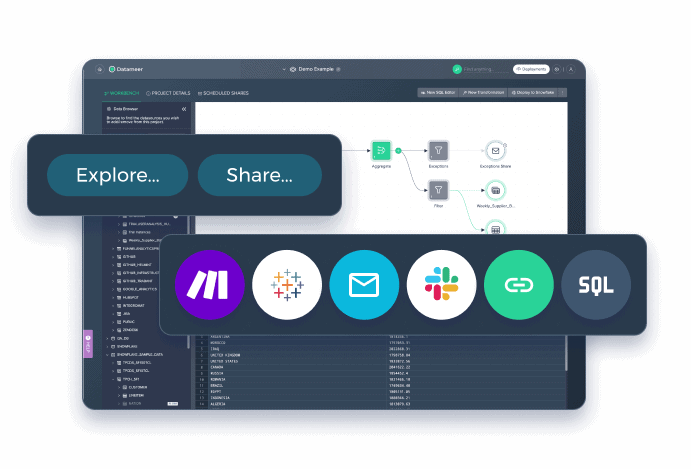 What Is A User Interface?
The user interface (UI) is the collection of elements and interactions that allow users to access, interact with, and control a product.
Being an integral part of the design process, it is the user's first point of contact with the product.
In this article, we will discuss snowflake's user interface(UI) – Snowsight, the attributes that make a good UI, and finally, introduce Datameer, a supercharged UI for Snowflake.
Let's dive in 😋!
First, What's Snowflake's user interface and experience like? 
We will explore this question in the following section.
Snowflake and the Snowflake UI
Snowflake is an excellent choice for businesses that require storing and analyzing large amounts of data.
It's popular because it's robust, scalable, and intuitive to use.
Companies leverage  Snowflake to quickly access and analyze their data, allowing them to make better decisions and gain a competitive advantage.
So what's all the hype about the snowflake UI?
 The Snowflake User Interface (UI) is a simple and straightforward user experience intended to make data warehousing and analytics more effortless and accessible.
The Snowflake UI enables users to quickly create data warehouses, manage and query data, and analyze and visualize data.
Unlike those old-looking GUI from the 90s, snowflake brings a fresh face and feel to data warehousing due to its user-friendly interface.
The snowflake classic console was initially released with a traditional user interface for advanced users.
Snowflake developed a better user interface called SnowSight in response to the increasingly complex needs of modern data warehousing and analytics.
If you'd like to know more about snow sight and how to migrate to snowsight, you can check out our article on this topic.
Next, let's look at the attributes of a good UI/UX.
Attributes of a Good UI/UX
As we have stated earlier, any successful software or web application must have a successful user interface. An application's ease of use can be determined by how well it is designed, as opposed to how challenging and frustrating it is to use. 
An excellent user interface should be:
Intuitive:

An excellent user interface should be intuitive. This means that users should be able to grasp the interface's functionality quickly. Having to consult manuals or tutorials is a 'red UI flag.' We use well-known design elements like icons, labels, and menus to provide an intuitive UI.

Responsive:

Responsiveness is how quickly the user interface responds to user input. An exemplary user interface should react promptly and correctly when a user clicks a button. 

Accessible:

The user interface needs to be usable by people of all skill levels. To put it another way, a user should be able to operate the interface using a keyboard, mouse, or assistive technology.

Consistent:

Users pick up on an application's features more quickly when the user interface is consistent. The same design elements are used consistently throughout the application, and similar navigation and interaction patterns are used to achieve this.
Flexible:

A fantastic user interface must be adaptable to various screen sizes and devices. This guarantees a consistent user experience regardless of the platform or device used.
Visual Appeal:

A user interface needs to look good. This includes utilizing eye-pleasing colors, fonts, and graphics that work together to produce a positive user experience.

Ease of Use:

A user interface must be simple. This implies that users should be able to finish tasks quickly and easily without consulting manuals or tutorials.
Datameer: The Super-charged  Snowflake UI Built for Snowflake
A practical, user-friendly UI is more important than ever for streamlining data workflows.
And that's why  Datameer, the modern UI  built for snowflake.
 Snowflake users will find Datameer to be the perfect tool for interacting with snowflake assets for the following  reasons:
1. Quick Data Access:
Datameer allows users to access data quickly from your various snowflake sources.
Irrespective of the database, CRM, or ERP system – as long as you can get it into a snowflake, we can get it out 😉.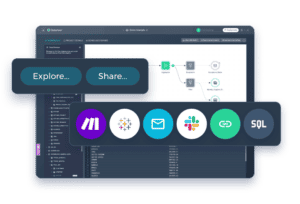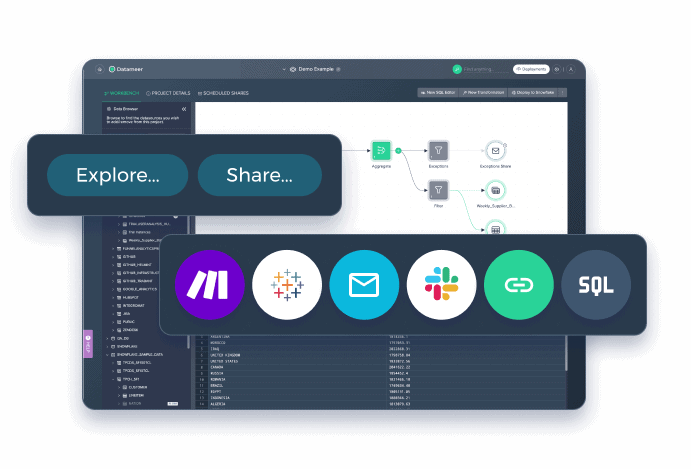 2. Simple-to-Use UI:
The Datameer UI is designed to be simple. With the click of a button, users can quickly build, explore, and analyze their data. This makes it simple for Snowflake users to find answers to their data questions rapidly.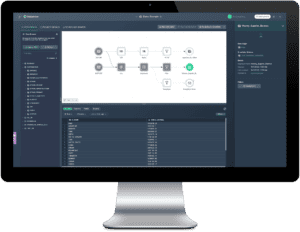 3. Powerful Analytics:
Datameer gives users access to powerful analytics tools. This enables them to gain insights from their data quickly and easily, allowing them to make informed decisions.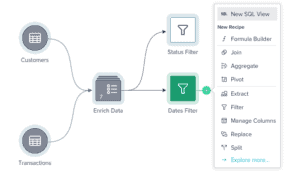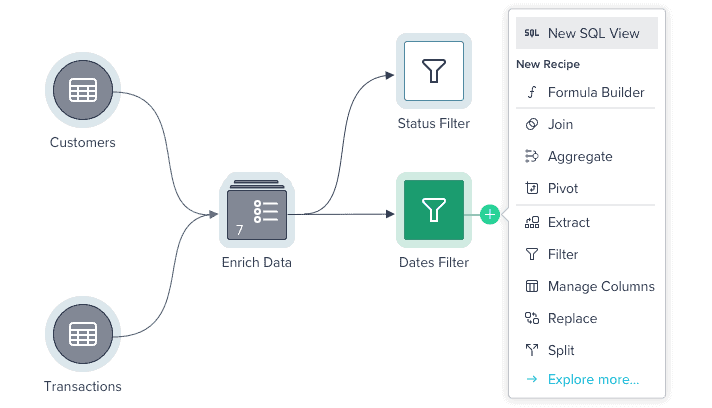 4. Visualization Tools:
Datameer offers a variety of visualization tools to users, including charts, graphs, and dashboards. This allows Snowflake users to interpret their data and gain insights quickly.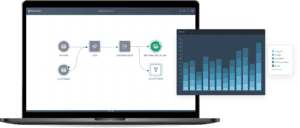 5. Collaboration Tools:
Datameer allows users to share their data and insights with their team quickly. This makes it simple for Snowflake users to collaborate and discover new insights from their data.
6. Security:
Datameer is concerned about data security. With Datameer's advanced security features, users can be confident that their data is safe and secure. This is especially important for Snowflake users, who must protect their data from unauthorized access.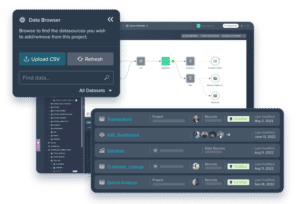 7. Easy Integration:
Datameer also intends to integrate easily with other applications and databases, such as Qlik. This makes it simple for Snowflake users to import their data into Datameer and access it from other applications.
So…
Are you looking to get an enhanced user experience with your Snowflake warehouse?
Discover Datameer today.
But seriously, don't take my word for it; go ahead and book your free 14-day trial.