How to create a date combining different fields in Alteryx
How-Tos FAQs
March 16, 2021
Let's take a look at how to create a date combining different fields in Alteryx. It is very common to handle databases that have date fields split into several columns (i.e., year, month and day) instead of a single field providing the complete information stored as DateTime format. 
We can use a specific formula in Alteryx to create a DateTime field from several split columns.
The starting database should appear as shown below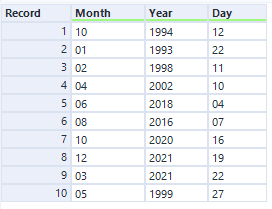 The aim is to get a new field 'Date' in a datetime format resulting from the combination of the data available in the three starting fields.
DateTimeParse
DateTimeParse is a very useful formula available in Alteryx that is used in order to combine string fields to create directly a new datetime field.
Connect a formula tool directly to your workflow
In the configuration panel create a new column typing the following expression with 'Date' as output data type
Syntax used
DateTimeParse(dt, f, l) converts a date string with the specified format, in a specified language, to the standard ISO format (yyyy-mm-dd HH:MM:SS).
Parameters:
dt: Date-time string data expressed as a selected column or a date-time string between quotes. The incoming data must be a String data type.
f: The format of the incoming date string data that you are converting, expressed in a format string between quotes.
l: (Optional) The language of the incoming date string data that you are converting. The language parameter defaults to your selected Designer Cloud language.
DateTimeParse(ToString([Year])+'-'+ToString([Month])+'-'+ToString([Day]),'%Y-%m-%d')
In our dt we have defined our string to convert combining the three original fields
ToString([Year]) + '-' + ToString([Month]) + '-' + ToString([Day])
It is used to create the string to convert in the datetime format
Tostring() is used because DateTimeParse() accepts only string data
In our f we have defined the format to use to convert the string in a datetime format.
It is the format we want for the output date
The ending database should appear as shown below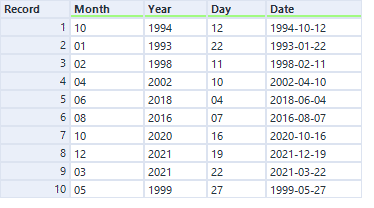 As you can see the three original fields have been combined to create a new field in a DateTime data type.
We have seen how to create a datetime field starting from the data split in three different columns.
Here the most basic syntax for datetime formats is reported:
%a Abbreviated Weekday Name ("Mon")
%A Full Weekday Name ("Monday")
%b Abbreviated Month Name ("Sep")
%B Full Month Name ("September")
%m Month in two digit ("12")
%d Day of the Month ("01")
%y Last two digits of the year ("16")
%Y All four digits of the year ("2016")
Continue reading
Check out: How to Parse fields using RegEx in Alteryx