What is Collaborative Analytics?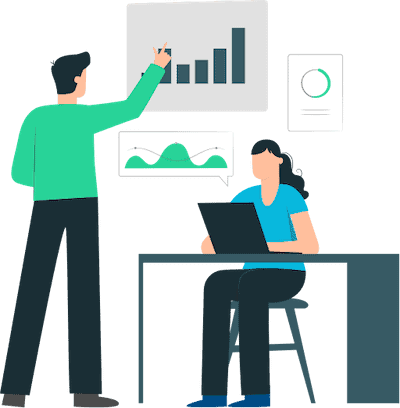 The word collaboration refers to the action of working with someone to produce or create something. Collaboration is fundamental to teams working together successfully and delivering the best possible result in our output. Collaboration also leads to a much better work environment and culture within an organization.
The above definition accurately captures what we mean when we talk of collaborative analytics– namely, the act of working with people in an organization to produce or create valuable analytics with the organization's data and analytics assets as the foundation.
Collaborative analytics is a still nascent process where best practices and methods are still emerging. It is a topic that was introduced 10 years ago on the BeyeNetwork but mostly focused on the process. Ventana Research, and leading research firm on BI and analytics, has devoted research on the use of collaboration in analytics this year. As organizations evolve their analytics for more in-depth insights that answer increasingly complex questions, they recognize that collaboration can help them get there faster and with greater accuracy.
The core need for collaborative analytics is to increase the analytics team's knowledge of data. A greater understanding of the analytics assets at their disposal facilitates greater trust, brings new ideas on using the analytics, and generally produces faster insights with greater detail and accuracy.
A recent survey by the Datameer team showed that knowledge around analytics assets is dispersed in many locations across an organization. Collaborative analytics can foster a shared understanding of an organization's analytic assets.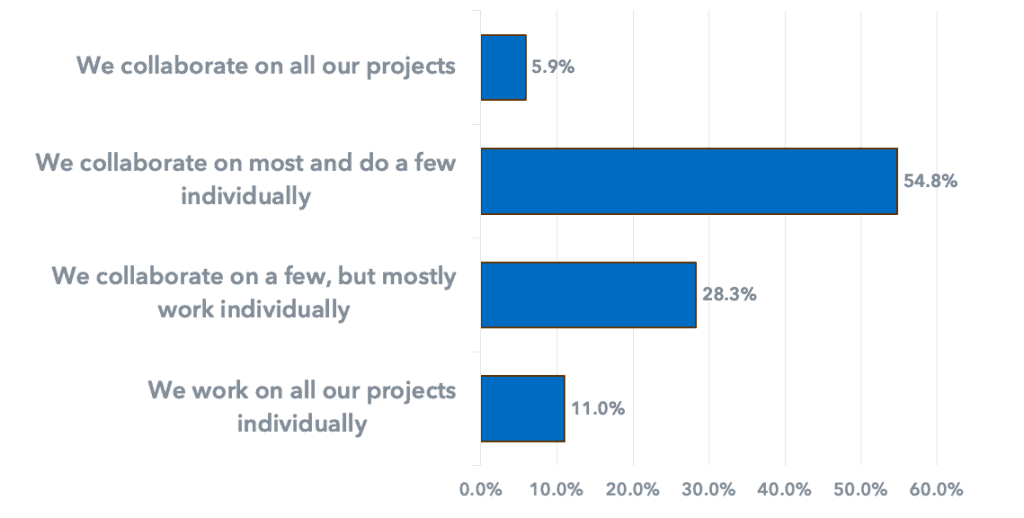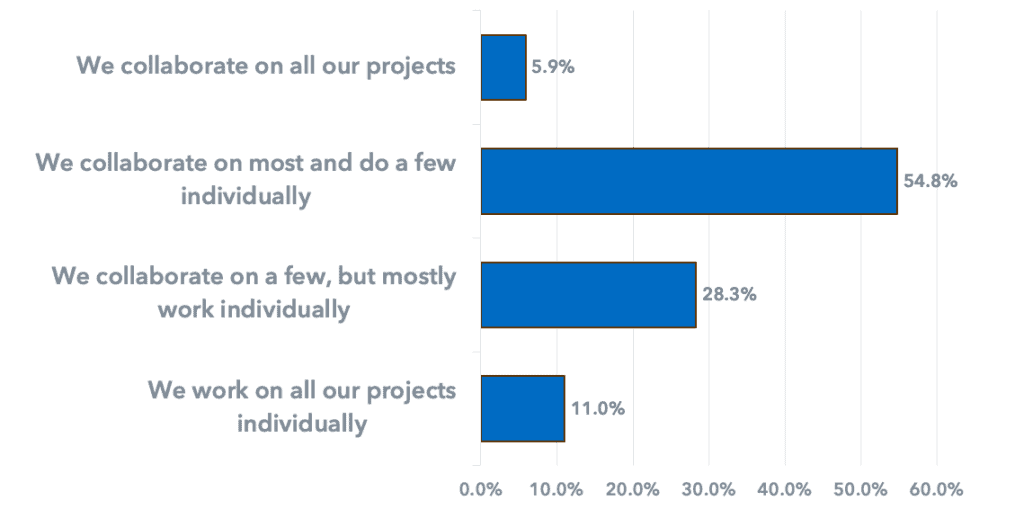 Forms of Collaborative Analytics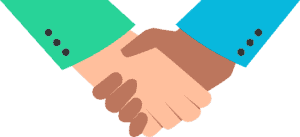 Analytics teams, comprising of data analysts, business analysts, data scientists, knowledge workers, and management, will collaborate in multiple ways to share analytics assets and knowledge about those assets. It includes:
Collaborating around discovery, creation, sharing, and use of assets

Sharing personal knowledge of analytics assets

Recommendations on how to use the assets based on personal knowledge

Automated recommendations on the best use of assets

Shared automated (AI-driven) knowledge about the assets

Shared derived insights from the assets – both personal and automated.

Discussions, chats, and collaborative documentation of assets

Social feeds, sharing, and discoverability of asset characteristics
In general, these forms of collaborative analytics can be grouped into two major categories: implicit collaborative analytics and explicit collaborative analytics.

Implicit Collaborative Analytics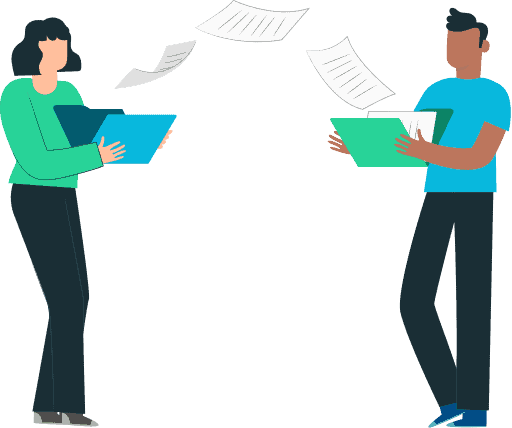 Implicit collaborative analytics methods are those that emerge automatically and organically through an organization. These methods are typically implemented in a software platform by leveraging information about team members' actions and combining it with machine learning around activities, workflows, and underlying data sets.
These methods are typically surfaced through the paradigm of social media, utilize machine learning and recommendation engines, and centered around sharing and taking advantage of the power of collective team activity throughout the platform. Implicit collaborative analytics helps build trust in assets, determine fit and usefulness, create seamless workflows between teams, and generate additional exploration and discussions.
Implicit collaborative analytics methods could focus on the following areas:
Recommendations around which assets to use in analysis and exploration

Recommendations for similar assets to the ones currently being used

Information on relevant assets created and used by other team members.

Identification of trending assets for possible consideration by the team

Highlighting of assets recently added to or created in the platform
A more excellent user experience would be offered through a generalized social media-style interface combining aspects of the above into a holistic "newsfeed" interface for analytics assets. It would also support seamless discoverability and frictionless sharing throughout the platform.

Explicit Collaborative Analytics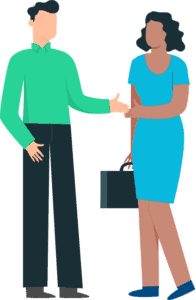 Explicit analytics collaboration methods are those that require an explicit team member's action for initiation or completion. These methods typically revolve around deliberate, team-driven requests, delivered through various shared communication channels, which should leverage an analytics hub or platform's collaboration features to enable cooperative asset discovery, annotation, and description.
These methods are typically implemented through a combination of social media like interfaces, including chat-style experiences, like/dislike (or "thumbs-up"/"thumbs-down") feedback, and a variety of documentation mechanisms. The overall experience of explicit collaboration is centered around explicit interactions between team members to understand better, document, curate, and collaborate around the assets. The software platform should codify, centralize, and expose these wide-use methods by analytic team members.
Different forms of explicit analytics collaboration could include:

Clear descriptions of each asset, its purpose, and potential uses

Annotations and 'case notes' on particular insights from the asset

Chat interfaces around assets, ideally within the collaboration platform

Structured dialog around an asset, ideally within the platform

Shareable notebook-style stories centered around exploration and testing

Cooperative discovery and analysis of assets

Collaborate asset modeling and shared workspaces
A shared analytics hub is a perfect place to foster all these forms of collaboration through different interfaces to facilitate more excellent knowledge around analytics assets and the sharing and reuse of assets.

Benefits
At the highest level, collaborative analytics facilitates faster answers to analytic questions. At the next level, it delivers six key benefits:
Increased knowledge sharing around analytics and data

A deeper understanding of data and analytics assets

Greater trust in the analytics assets and the results they produce

Enhance the curation of analytics assets

Better leverage of different skills in the analytics community

A broader inventory of and information about analytics assets

More in-depth tracking and understanding of the use of analytics assets
Collaborative analytics will increase the value the analytics community offers to the organization and bring more significant ROI to analytics programs.

Spotlight and Collaborative Analytics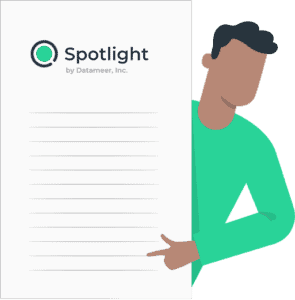 Datameer Spotlight is a SaaS solution allowing analytics teams to find, create, collaborate, and publish trusted analytics assets in complex hybrid landscapes. Spotlight provides unified access across analytics silos, increases the use of analytics assets, and furthers data knowledge to build trust and rapidly answer new business questions. Spotlight includes an array of both implicit and explicit collaborative analytics facilities to share and develop an understanding of analytics assets within the analytics community and information workers and management.
To learn more about Datameer Spotlight and collaborative analytics, download our white paper on Analytics Collaboration.