Top 5 Fivetran Competitors and Alternatives
Justin Reynolds
June 15, 2021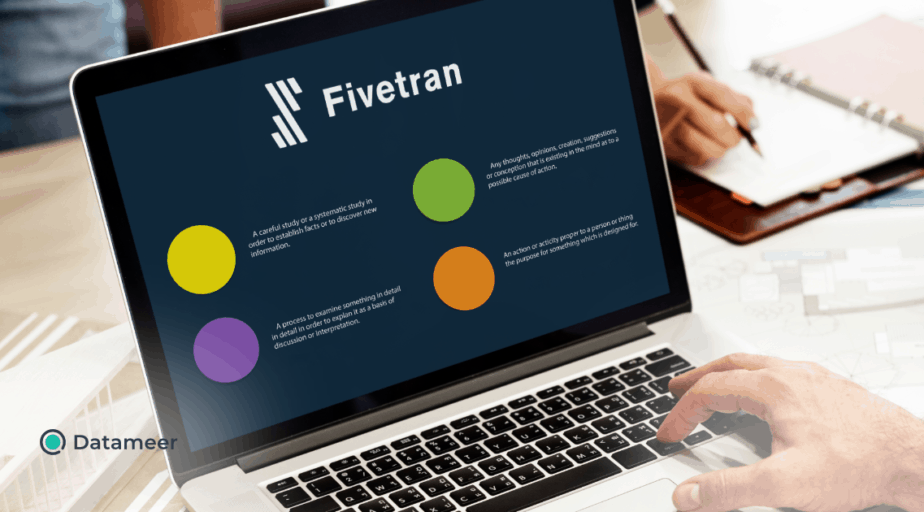 What is Fivetran? 
Fivetran is a cloud-based ELT integration tool that teams can use to synchronize and replicate data into a cloud data warehouse. According to Gartner, the company is a niche player in the research firm's latest Magic Quadrant for Data Integration Tools. Because of its nicheness, it might not be for everyone, but good news there are plenty of great Fivetran competitors and alternatives on the market right now.
Using pull and push connectors like webhooks and Snowplow, Fivetran connects to more than 100 data sources, making the platform ideal for ingesting data across various sources and bringing it into a central location. Fivetran connectors eliminate custom builds, saving time and effort. 
Before moving forward with Fivetran, you should consider the type of integration pattern that's right for your business's unique needs. Fivetran only supports the ELT data integration pattern, with all transfer processing occurring through pushdown queries defined in SQL or dbt packages. If your company needs alternative data integration patterns like ETL, data science pipelines, or data preparation, Fivetran likely won't help. 
Lack of flexibility
Ultimately, Fivetran's most significant drawback is a lack of flexibility, which runs counter to what many organizations require today. For example, Fivetran lacks control during replication, with some users finding the platform very limiting. Fivetran also only supports fixed schemas, meaning customers can't control data when sending it to various destinations (e.g., a data warehouse). 
No data lake support
Beyond that, Fivetran — despite working in conjunction with multiple data warehouse destinations — does not support data lakes. What's more, Fivetran customers can't create or modify data sources using internal resources, which is a significant drawback. To modify data sources, one must submit a request to Fivetran, leading to service delays that stifle innovation and decision-making.
Consumption-based pricing
Fivetran has a consumption-based price model based on monthly active rows that scale depending on usage. The three pricing options include:
A starter plan ($1 per credit)

A Standard plan ($1.50 per credit)

An Enterprise plan ($2 per credit)
Top Fivetran competitors and alternatives to explore 
Fivetran could potentially be a great fit if you're looking for a niche platform that enables you to establish data replication between sources and cloud data warehouses. It's also better suited for companies with low-volume data integration requirements. If you're looking for something more comprehensive, the good news is many alternative data integration services on the market can help meet your needs.
Please keep reading to learn some great Fivetran competitors and alternatives that can potentially help your organization improve the way it moves and aggregates data. 
1. Datameer 
Datameer's SaaS data transformation service is the perfect alternative for Fivetran for the T in your ELT.  The Datameer solution is the industry's first collaborative, multi-persona data transformation platform integrated into Snowflake.  The multi-persona UI, with no-code, low-code, and code (SQL) tools, brings together your entire team – data engineers, analytics engineers, analysts, and data scientists – on a single platform to collaboratively transform and model data.  Catalog-like data documentation and knowledge sharing facilitate trust in the data and crowd-sourced data governance.
Datameer is a powerful SaaS data transformation platform that runs in Snowflake – your modern, scalable cloud data warehouse – that combines to provide a highly scalable and flexible environment to transform your data into meaningful analytics.  With Datameer, you can:
Allow your non-technical analytics team members to work with your complex data without the need to write code using Datameer's no-code and low-code data transformation interfaces,

Easily combine large volumes of captured data with master and other data to create context-rich, meaningful datasets for analysis,

Fully enrich analytics datasets to add even more flavor to your analysis using the diverse array of graphical formulas and functions,

Generate rich documentation and add user-supplied attributes, comments, tags, and more to share searchable knowledge about your data across the entire analytics community,

Use the catalog-like documentation features to crowd-source your data governance processes for greater data democratization and data literacy,

Maintain full audit trails of how data is transformed and used by the community to further enable your governance and compliance processes,

Deploy and execute data transformation models directly in Snowflake to gain the scalability your need over your large volumes of data while keeping compute and storage costs low.
Datameer has been selling data transformation tools for many years and has continually evolved these with the market.  Many of the largest enterprises in the world use Datameer for data transformation including Citibank, Royal Bank of Canada, British Telecom, Bank of Montreal, Aetna, Optum, Morningstar, Vivint, and more.
Pricing model
Unlike Fivetran, Datameer charges a simple rate per user. We do not charge based on the data volume (or lines of data), nor do we charge for additional processing power when performing in-pipeline transformations. You should not have to guess how much your ETL/ELT tool will cost you. Straightforward pricing means you know how much to budget for your ETL needs managing costs whether you're dealing with small or large datasets or simple and complex transformation workflows.
2. Xplenty ltd
In 2011, Xplenty launched as a cloud-native ETL platform, offering no-code, point-and-click functionality — making the platform a true cloud-native pioneer.
Pre-built connectors
Another Fivetran competitor, Xplenty also offers a variety of pre-built connectors. Users can also leverage a flat-rate, per-connector pricing structure which can potentially save money during integrations. 
No SQL coding experience is needed
.
While Fivetran requires users to have SQL coding experience, Xplenty does not. The platform offers SQL coding tools for developers who want to use it, but you don't have to have any coding knowledge to use their platform. Xplenty is more accessible to a broader user base.
Monitoring and logging within the UI
Further, the platform also includes monitoring and logging within its UI, which is a feature that you won't find in Fivetran. By offering monitoring and logging, Xplenty simplifies troubleshooting, giving in-house technical teams the freedom to fix problems using their internal resources. 
Flat fee pricing
Xplenty pricing is available through a flat fee based on the number of connectors that you use. Increasing your data and adding lines of code does not drive up the cost of using Xplenty, making it worthy of consideration for cost-conscious customers.
3. Stitch 
Talend subsidiary Stitch offers an open source cloud-based platform for ETL, event tracking, and data ingestion that's HIPAA-, GDPR-, and SOC 2-compliant.
100 SaaS and database integrations
Stitch supports over 100 SaaS and database integrations. And unlike Fivetran, Stitch works with both data lakes and data warehouse destinations, making the service a bit more flexible. 
Ability to create new sources
While Fivetran is a more rigid solution, Stitch allows customers to contract with the company and add new sources. Anyone can add a new source to Stitch, regardless of whether they are a Stitch customer. The only stipulation is the source has to adhere to the open source Singer standards.
In-app chat and phone support
The company offers in-app chat support for all customers, as well as phone support. Unfortunately, Stitch doesn't offer training. As an open source solution, Stitch depends on community contributions, and users can contribute features and add documentation. While open source has its share of benefits, it's not without its drawbacks, either. For example, projects can shut down without notice, support can be unreliable, and security can be challenging, as would-be bad actors have access to source code. 
Pricing based on usage
Pricing depends on usage, with plans ranging from $100 to $1,250 per month depending on scale. 
5. Keboola
Keboola is another program that offers end-to-end ETL operations. The platform has over 250 custom integrations, including community-built plugins. Like Stitch, Keboola is a HIPAA-, GDPR-, and SOC 2-compliant platform.
Pre-and post-load transformation
Pre-and post-load transformation is available with Keboola through the SQL, Python, R, and Julia languages. The platform also includes advanced analytics, business intelligence, and AI support. 
Seamless data rollbacks
Keboola uses Snowflake's time travel feature for seamless data rollbacks. The platform also comes with complete data encryption, multi-factor authentication, and multi-level access control for solid security. 
Pay as you go pricing
.
Keboola pricing contains a pay-as-you-go plan with 300 free minutes each month. It includes unlimited ETL and ELT workloads, SQL and Python transformations, analytical workspaces, orchestration automation, and 250 GB of data storage, among other things. 
Enterprise plan
An enterprise package is available, offering everything in the free plan plus some additional features. Including more transformation language support, extra cloud options, and Active Directory/SAML integration. 
5. Rivery.io
Another service that connects to multiple data sources is Rivery, a cloud-native ETL solution offering 100% compatibility with any data source along with GDPR and SOC 2 compliance. 
Out-of-the-box connectivity for 150 connectors
Rivery offers over 150 pre-built connectors for instant, out-of-the-box connectivity to the data source of your choice. The platform supports SQL-based postload transformations for modifying data in a warehouse environment. Support for seven destinations is also available, including BigQuery, Snowflake, Redshift data warehouses, Azure Data Lake, Amazon S3, Azure Blob Storage, and Google Cloud Storage. 
Ability to add new data sources
Rivery.io is another platform that lets you add new data sources. And like Datameer, Rivery connects to both data warehouses and data lakes. Supported developer tools include REST API and the Rivery API for external embedding.
Consumption-based pricing
The company offers flexible consumption-based pricing, with a standard plan ($1,250 per month) and an enterprise plan containing advanced security and support for complex use cases. Due to the usage-based nature of pricing, some users report that it's difficult to estimate future costs.
The bottom line for Fivetran competitors and alternatives:
It's impossible to say that any ETL solution is better than another. Fivetran may be the perfect tool for some companies, offering a fast and easy way to stream data into a data warehouse. Other companies may want a solution supporting more integrations, offering more flexibility, or providing more control over data. 
What's your ideal ETL solution?
If your organization falls into the latter category, Datameer could be the ideal choice as a fully-featured data integration solution that supports a wide range of complex needs. Datameer offers point-and-click functionality, no-code deployment, and robust, enterprise-grade security to protect data at rest and in transit.
Try an ETL tool that has it all: Datameer
With the help of Datameer, you can build secure and scalable data pipelines with ease, regardless of your technical proficiency. 
To learn more about how Datameer can help your business put data into motion with wizard-driven simplicity, Sign up for your free trial today!