GeoAnalytics and Google Maps Extensions for Qlik
How-Tos FAQs
November 15, 2020
Through the years… we've experienced many different options for Google Maps Extensions and alternative GeoAnalytics in Qlik. And as expected, maps have been a powerful and visually pleasing addition to any Qlik solution containing any geographic data.
Clients love the ability to view the analytics of regional data in a simple drillable map format. Many representations have been available in extensions. I remember first implementing my first Google Maps extensions, from clusters to markers and visually impressive interactive heatmaps, displaying different shades in higher concentration areas. These were relatively easy to implement with a Google API key, a table of geocodes (Latitudes and Longitudes) mapped to your address data, some additional geo-mapping scripts, and a few custom expressions, displaying results like these after minimal configuration time.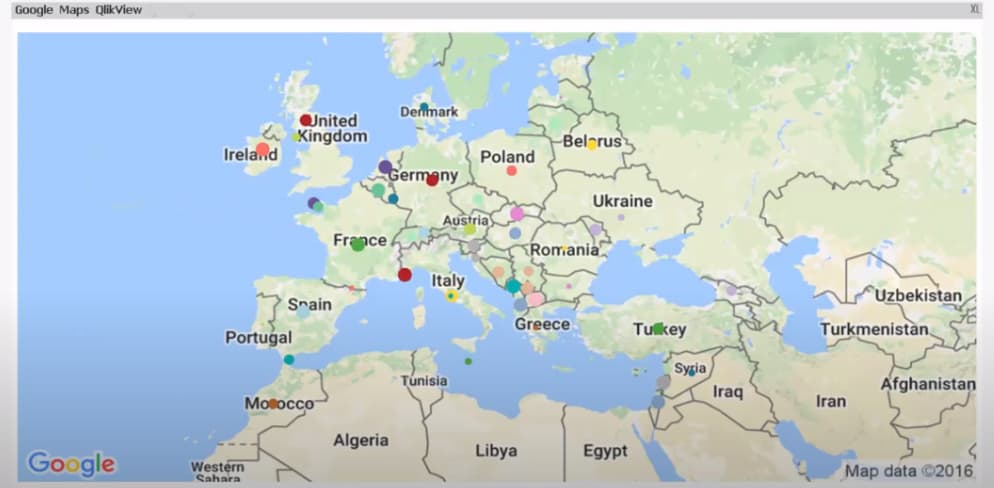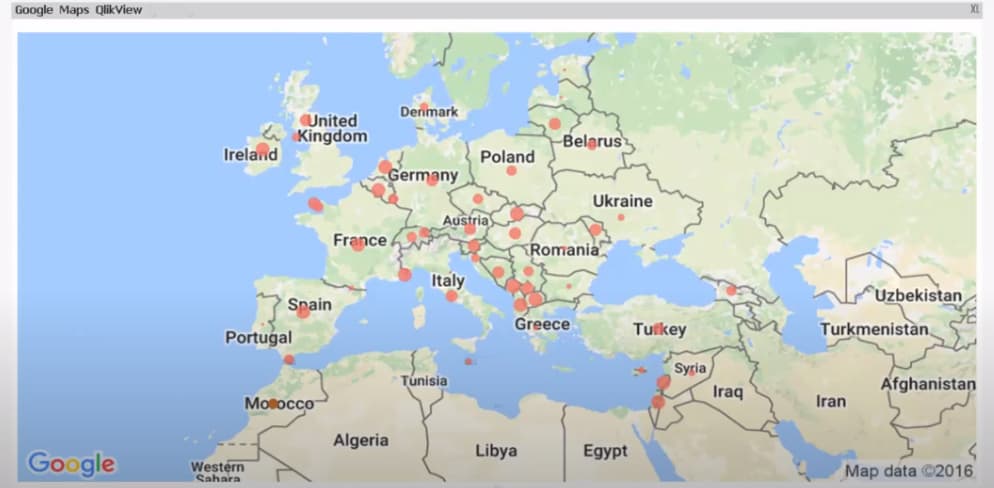 QlikTech, unfortunately, didn't support this extension, and more upsetting, the Google API behind loading the map image was deprecated in October 2020, switched off in October 2021.
https://developers.google.com/maps/deprecations#google-js-loader-deprecation
Other extensions have been available, mostly in short supply of additional support from Qlik and often also based on the same original Google Maps API Geospatial Mapping. 
Even an alternative "Maps from mapquest" extension has been released
What are some of the GeoAnalytics tools that are available in Qlik now?
Although QlikView is now mostly bound to purchasing a licensed extension, fortunately, Qlik Sense has a standard maps feature.
Nonetheless, there are many very intuitive and helpful extensions, typically available for both QlikView and Qlik Sense installations. These include GeoQlik, QlikMaps, NP GeoMap, which, with licensing, provide a whole host of additional features that are included in their offerings
GeoQlik:
GeoQlik is offered for QlikView and Qlik Sense. The map detail is colorful and clean. GeoQlik for QlikView also delivers data at a detailed geographic scale, from World Map to building view.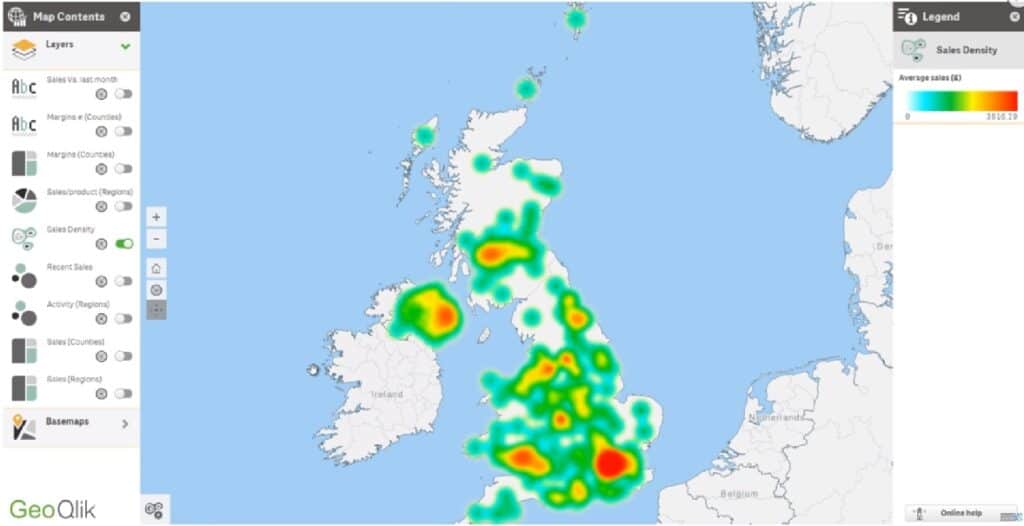 QlikMaps:
QlikMaps is also offered for QlikView and Qlik Sense. Clean, detailed maps with an option for Street view.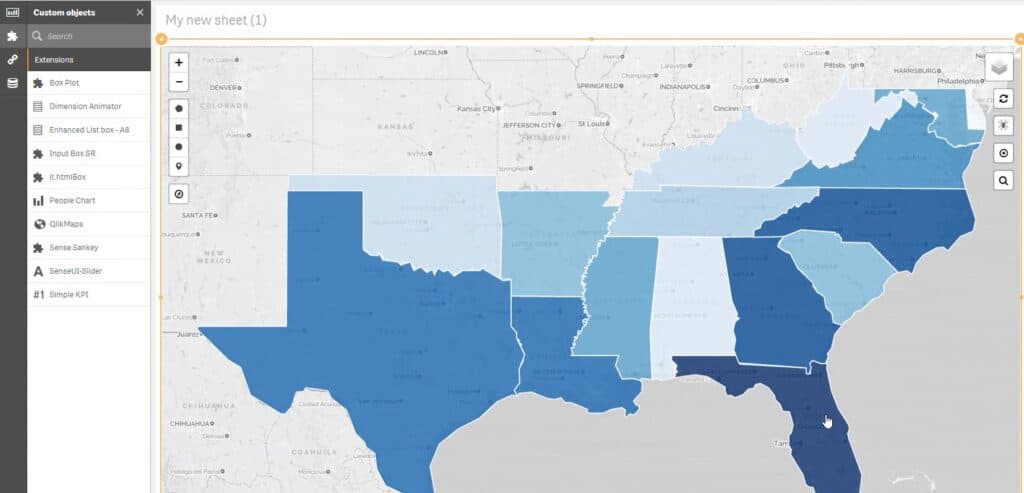 NP Geo Qlik:
As expected, also offered for QlikView and Qlik Sense. NP Geo design is less colorful on the map imaging, allowing for more profound color contrast for analytics over the map.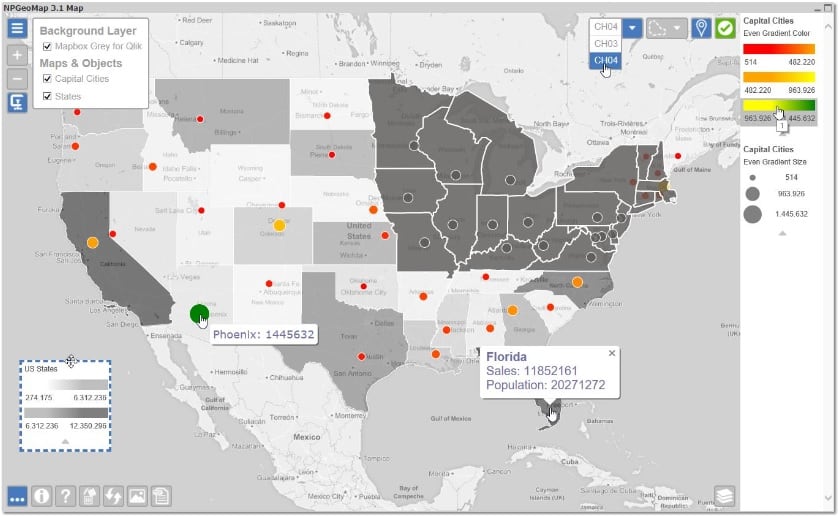 As we can see, various skins and quality of images are available, With simple and effective functionality predefined for displaying additional information when mousing over or clicking into more detail.
Standard Maps in Qlik Sense
In Qlik Sense maps is available as a feature, naturally not as advanced as when using the additional features offered with these extensions.
These extensions were created for the older QlikView market and have naturally grown and evolved over the years. Now also each bringing that knowledge over to their Qlik Sense offerings.
A significant advantage of a Qlik Sense installation over a Qlikview installation is that the basic Maps Object is available. The Map Objects can be utilized by installing QlikGeoAnalytics for Qlik Sense. The Qlik Sense Server Installation and the Qlik Sense Desktop Installation each have a different set of installation instructions, so be sure to use the setup designed for your solution.
---
Up Next: Learn Partial and Incremental Reloads in Qlik